Even though most of the latest smartphones have Gorilla Glass coating screen, which gives them some additional protection, this does not mean there is no need for the screen protector. Each mobile screen is prone to smudges, fingerprints and scratches, which causes the phone to lose its charm and beauty. Therefore, if you want to keep your device in a good condition
If you want to keep your phone in good condition, you should choose the right screen protector. There are mainly three types of screen protectors, each with its own advantages and disadvantages. Read this little guide and find your perfect protector.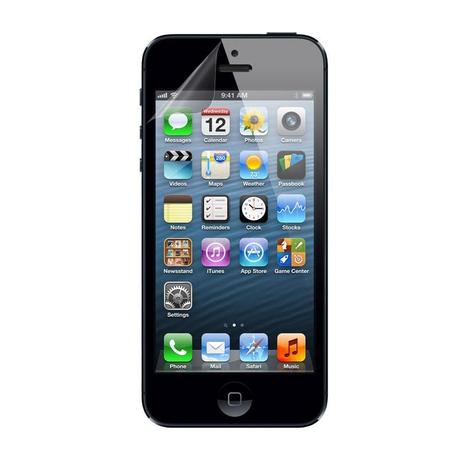 iPhone 5 Screen Protector from Belkin
Clear
This is the most convenient and traditional option. Clear screen protector delivers clarity and its main purpose is to protect your device against scratches and fingerprints. You will notice that some products include several pieces, while others have only one .
Disadvantages: If you buy a pack of two or three screen protectors , bear in mind that you got thin protectors that tend to wear off over time. They protect your phone from scratches just like others, but eventually you will have to replace the worn protector with another from the pack. On the other hand, screen protectors containing only one piece of the package are usually slightly thicker, of better quality, meaning they will withstand scratches for a longer period of use.
Matte
These screen protectors reduce glare while protecting your phone from scratches. They make it comfortable to read on the screen and that is one of their biggest advantages. As for the disadvantages, most of these screen protectors produce a "rainbow effect" and an effect similar to the pixelation.
Privacy
These products limits the viewing angle of the device, so only the user can see the active screen. In addition, these screen protectors also keep the screen safe from scratches. Disadvantage: This type of screen protectors will make the display appear hazy and vague.
There are also other types of screen protectors, such as those with a mirror effect or screen savers with decorated edges that allow you to combine s traditional screen protector with colorful skins. If you want to take care of your mobile screen, click here, select your phone mode and  find the best protective solution for your device. Here are some screen protectors recommended by MyTrendyPhone:
http://www.mytrendyphone.com/shop/samsung-galaxy-s4-216226c1.html