Learning you are going to have a baby is one of the best moments of a woman's life. Fortunately for most, we have the opportunity along the way to shop for that little one. Thank God we love to shop, as choosing the best baby crib can prove tedious at times, however, a loving mom will take the time to choose the right, safe, and beautiful crib for that little bundle.
Moms of today already know it is better to purchase a new crib than a used one, as the seller could hide defects and cover up faults that could later prove detrimental to the baby.
Having learned the afore mentioned possibility, mom enters the store knowing: She must check to ensure the crib she wants to purchase has been certified with the Juvenile Products Manufacturing Association. Having established that fact it's then time to begin her inventory.
FACTORS TO CONSIDER WHEN CHOOSING THE BEST BABY CRIB
Whether you are a new mom or not, you still need to consider the same principles when purchasing the baby's crib. Do you have enough funds to purchase the crib you like? Sometimes you might have to settle for a less expensive crib as long as it boasts the safety features you need. Consider available space and decor of the nursery. Will that space accommodate the crib and the accessories?
Think of safety – any recalls on the crib, anything hanging near the space for the crib, is the mattress water proof? Do you need a crib with adjustable mattress, teething rail and drawers? Has the crib been certified? Who is assembling the crib? Daddy always likes the job, but can you trust his skills? Make sure you adhere to all safety rules.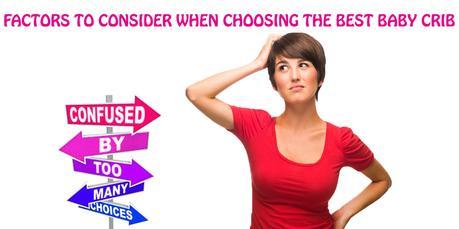 FEDERAL MANDATES
Get out your measuring tape and measure to prove that slats on the crib are no more than 2.3/8 inches apart. The frame size is at least 51.3/4 long by 27.3/4 inches wide and that the mattress is 6 inches thick. Correct frame size will provide a good fit between frame and mattress.
Next insert 2 fingers between mattress and the side of the crib. This ensures that the mattress is not too small and will prevent injury to your baby. Remember, if you buy this crib online, check for these specifications as soon as you receive that crib. If it does not meet standard, return it.
STABILITY
Check to ensure the crib has metal rods running from one end board to the other end board under the base of the crib. Do this by running your fingers under the immediate base of the crib. Then, simple shake the crib. If it rattles or shakes the rods have a problem and you need to move to the next.
Do not purchase cribs with warping, splitting or splintering. All those defects can be found with older cribs. Check overall crib integrity, slat strength and mattress support.
SAFETY FEATURES
Purchase mattress at the same time you purchase the crib. That act ensures the mattress is a good fit for the crib. Bear in mind cribs with sides that can be lowered was banned 2011. This makes it more difficult to lift and remove the baby, but mom will never move away for that critical second in which the baby falls.
Check for any sharp edges to slats, bolts or screws. This will prevent scratches or scrapes to your baby. The corner posts on the crib should be no higher than 1/16 of an inch unless they support a canopy. Baby's clothing can be caught on these posts.
ADJUSTABLE MATTRESS
Having researched the crib information, you now check to see that the mattress is adjustable. It usually has three levels of adjustment. This enables the care takers to adjust the mattress as the baby grows. A properly adjusted mattress will prevent falls.
It is a fact that mothers like to splurge on the newborns. However, temping as it may be, do not purchase bumpers, pillows and blankets for the crib. Purchase good fitting crib sheets. Baby should never be able to get the sheets over his/her head.
THE PRETTY CRIB
Stay away from the over decorative crib. Those with scroll work, finials and cut out sides. Check decorative knobs and corner posts. Check the kind of paint and where it originated.
Some paints from certain areas in the world still have lead. Much as we would love to know there is no lead, we don't have reputable information at times, so ask. It is your baby, take the necessary steps even when it seems like an over reach. It is better to be sure.
Final Word
Mom, having a newborn is a glorious occasion and you can ensure your baby's safety and proper growth by shopping with some intelligence and mom sense. There are convertible cribs, mini cribs and portable cribs that some parents might prefer to the standard crib based on their situations. The ground rules are different for each but with the above safety rules I am positive you could now choose comfort as well as safety for your baby.
Also remember to keep cribs away from windows, window blinds, wall hangings, curtains, toys and furniture. There are numerous good, beautiful, certified, sturdy cribs out there. Cribs that meet all the requirements, so mom, shop well!