Hiking shoes come in many shapes and forms. What you'll need in a hiking shoe is wholly dependent on what type of hiking you do, the weather conditions you often face, and your personal preferences. That being said, there are no hiking shoes out there that can do it all. Choosing specific features in a shoe will often mean leaving other elements behind. But is that really a bad thing? We don't see it as so. Having a hiking shoe that is good at everything often means it won't be outstanding in key areas you'll want. So while the idea may sound attractive at first, in the end, you'll want to to find a shoe that suits your outdoor lifestyle and needs the best. So read through our guide on how to choose hiking shoes. Odds are, you'll find exactly what you're looking for by the end of it.
How to Choose Hiking Shoes Infographic


How to Choose Hiking Shoes: In-Depth
Step 1: Discover the Anatomy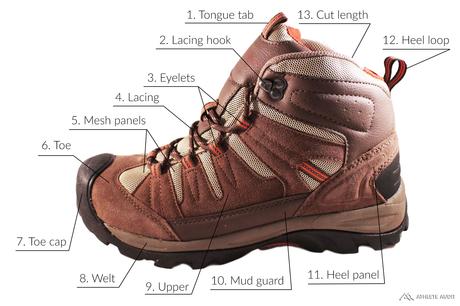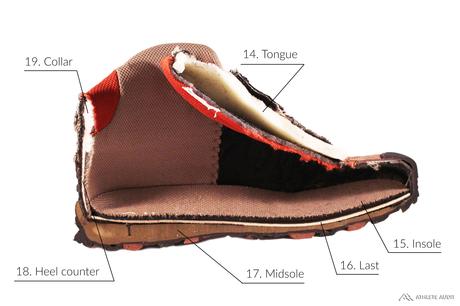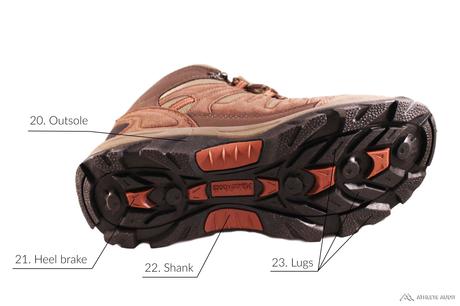 Tongue tab – Helps to lift up the tongue for easy foot insertion
Lacing hook – An open lace hook makes it easier to tighten/loosen boots that are mid to high-top length
Eyelets – Holes near the top of the upper guides laces into place
Lacing – Durable, rounded laces stand up against the abuse of mother nature
Mesh panels – Some hiking boots feature mesh panels that add ventilation
Toe cap – The end of a hiking boot, oftentimes reinforced for added durability
Toe guard – A rubber toe cap helps to improve durability as well as scrambling on rocks
Welt – A strip of leather or rubber around the perimeter of the outsole, helps attach the outsole to the upper. Very important to pick a shoe with a well-made welt for long term durability
Upper – Usually made of tough materials such as leather, suede, or synthetic leather with mesh or GTX added
Mud guard – Helps to keep mud from plastering the upper
Heel panel – The piece of fabric that covers the heel
Heel loop – Can be used to make slipping on the boot easier or attaching to a carabiner for carrying
Cut length – Hiking boots often refer to mid-tops or high-tops, while hiking shoes are often low-cut for added mobility
Tongue – Heavily padded for increased comfort and protection
Insole – The footbed of the boot, provides comfort and support for the feet. Some insoles are also removable
Last – What a boot is built around; affects the shape and width of the boot
Midsole – The cushioning located between the insole and outsole, is thick and firm
Heel counter – The rigid – often plastic – insert behind the heel that provides structure and support for the heel area
Collar – A padded collar provides comfort and ankle support
Outsole – A durable rubber outsole can be found on the bottom of a hiking boot
Heel brake – Specific lug pattern helps to provide extra traction when braking with the heel
Shank – Some hiking boots have a stiff 3-5mm shank between the insole and outsole to provide support and structure. Helps to relieve load on hiker's feet and calves
Lugs – Deep, protruding rubber lugs help to provide traction on a variety of outdoor terrain
Step 2: Choose the Best Style
Standard Hiking Footwear
Hiking Shoe
Best For: Casual hiking, trail, and lounging around camp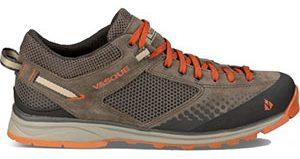 Hiking shoes have been gaining lots of popularity in recent years, mostly due to its lightweight construction and minimal restriction. This makes them a perfect choice for anyone who wants to do some casual hiking on well-maintained trails, or sitting around camp and relaxing.
Most hiking shoes are low cut for mobility, and often very flexible with lots of ventilation for the utmost comfort. Their flexible nature also means you won't have to break them in. The only downsides to wearing hiking shoes are the fact that you can't carry much weight with them, they are not as durable as boots, and there is not so much support, traction, or weather-resistance.
Mid-Weight Boot
Best For: Day hikes, long hikes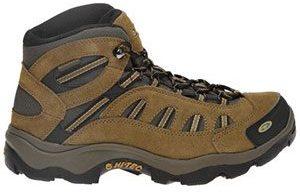 Mid-weight boots are more like the stereotypical boots you'd imagine most hikers wearing. They might be heavier and less flexible than hiking shoes, but they provide a lot more features for those who enjoy day hiking or just long hikes in general in rugged outdoor terrain.
Often coming in mid or high-top form with a stiffer sole, mid-weight boots are perfect for hauling light to medium loads of under 30 pounds. They offer more support, protection, and weather-resistance than hiking shoes, although they aren't as breathable.
Heavy Boot
Best For: Backpacking, multi-day trips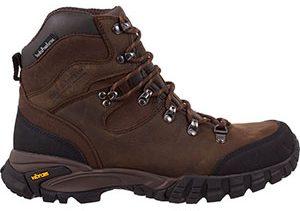 Heavy boots are the tanks of the outdoors, built extra tough to endure anything you might encounter outside. Highly durable, weather-resistant, supportive, and protective, heavy hiking boots are ideal for backpacking warriors who engage in multi-day trips.
Often stiffer and in high-top form, these supportive boots are perfect for hauling heavy loads over 30 pounds. As you can imagine, they are very heavy and not as breathable as shoes or mid-weight boots, and often need to be broken in before you can comfortably hike around in them.
Specialized Hiking Footwear
Hiking Sandal
Best For: Casual hiking, hot weather, and lounging around camp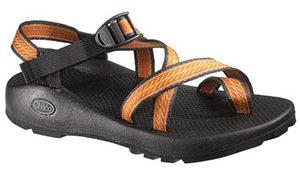 Hiking sandals aren't really built for any serious hiking, but they're a good choice for those who like to be outdoors in hot weather. They're also plenty for casual hiking on trails and staying around camp.
Extremely lightweight and obviously super breathable, hiking sandals are like an extreme version of hiking shoes, just without any or very minimal protection and support. Some hiking sandals even have toe guards to keep your little piggies in working order. Note, however, that you shouldn't be carrying any loads while wearing sandals.
Approach Shoe
Best For: Rocky terrain, scrambling, low-class climbing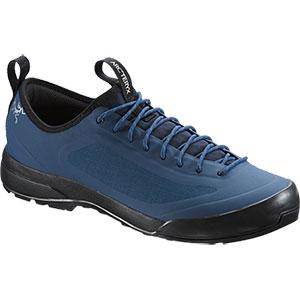 Approach shoes are a very specialized type of outdoor footwear, which is like a hybrid mixture of rock climbing shoes and hiking shoes. This gives them wide versatility outdoors.
They are mostly designed for rocky terrain, scrambling, and low class climbing where good footing is a priority. Designed with a flat sole with low-profile lugs and made of very sticky rubber, these shoes allow you to traverse rock as if you are a mountain goat. Why you want to be one, we have no idea (except they're amazing, we know). They also feature rubber toe rands for durability and a smooth rubber patch under the toe for climbing. Although very lightweight and comfortable, approach shoes are not as durable as shoe or boots and have very minimal support and protection.
Mountaineering Boot
Best For: Mountaineering, alpine climbing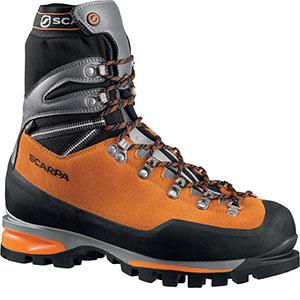 Mountaineering boots are designed for a very specific purpose. If you guessed mountaineering, we must say you're a pretty clever cookie.
Adapted for ice climbing, mixed climbing, crevasse traverse, or hauling heavy loads through winter weather, mountaineering boots are even more rugged than backpacking boots. Often rising far above the ankle, a mountaineering boot's upper is often made of leather, plastic, or tough synthetic materials. They are almost always insulated & extremely weather-resistant, and can fit crampons in a cinch for any ice climbing you might need to do. With the utmost support and protection, these boots will be overkill for the majority of hikers. Not to mention they're very heavy and expensive. Mountaineering boots come as either single boots, which are lightweight but not as insulated, or double boots, which feature a removable inner boot and is more weather-resistant and waterproof.
Step 3: Know Your Sole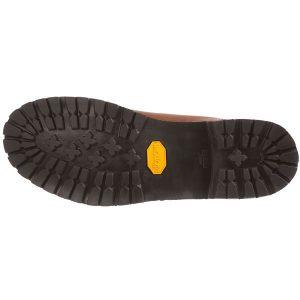 The next thing to take note of when learning how to choose hiking shoes is the sole. A hiking shoe's sole is built to be durable while providing good traction on a variety of outdoor terrain. While hiking shoes, sandals, and approach shoes are more flexible for comfort, hiking and mountaineering boots are a lot stiffer for support. Many boots even incorporate a stiff 3-5mm shank between the midsole and outsole for more support.
Many hiking shoes/boots will feature deep lugs that can shed mud and debris with ease. There is also often a heel brake in the back of the shoe that can provide traction when braking downhill on steep descents, which can be a real lifesaver. All in all, you should always feel stable and secure while wearing a pair of hiking shoes.
Step 4: Consider Other Essentials
Breathability
Breathable shoes are best for hot and dry climates where your feet aren't likely to get soaked by the weather but from your own sweat. Look for either sandals or hiking shoes with mesh panels or split grain leather material. Although breathable shoes may lack durability and protection, they are a great choice if you'll be hiking on established trails with few obstacles.
Waterproof
Waterproof shoes, on the other hand, are perfect for wet terrain or weather where you want your feet to stay nice and dry. Look for either leather uppers which are naturally waterproof or synthetic leather uppers. Make sure there are no ventilation holes or mesh panels which could let water in, and a mid to high-top cut is more effective for keeping water out. There are also shoes that have waterproof membranes such as Gore-Tex shoes. The downsides to waterproof shoes, however, are that most are heavier and lack breathability.
Lightweight
Lightweight shoes are best for casual hikers who enjoy short trips or carry light loads. The nimble-footed are best equipped with hiking shoes with thin uppers or sandals. Light hiking shoes are often very breathable as well. However, they lack durability and support.
Durability
Durable shoes are built for the serious hiker who loves long hikes in rough terrain. Look for mid-weight or heavy boots with extremely tough uppers and durable soles so that you can keep on trekking time and time again. Though durable shoes are very long-lasting and hard-wearing, they are heavier and lack breathability.
Step 5: Find the Right Fit



Signs of a Perfect Fit
Fits the width and volume of your foot. Note that width does not equal volume, they are two different things

No pain, discomfort, pressure points, or chafing

Around 1/4 to 1/2″ of space in the toe with a snug fitting forefoot and heel
There should be little if any heel lift when walking
Even pressure on the arches when standing on the ball of your foot
Suits your lifestyle and outdoor activities
Tips for Fitting Hiking Shoes
Try multiple sizes of the same shoe to find the best fit for you
Wear socks you intend to use while sizing shoes
Try boots on in-store and in the evening for an accurate fit
Know what you need before you start shopping for shoes
Spend some time walking in boots (on flat, incline, and decline surface) to ensure comfort
Consider adding your own insoles or orthotics for more comfort or a better fit