Learning how to choose golf shoes can be a little tricky at first, almost like cooking a perfect dish. There are a variety of elements to consider when picking out a pair, and what you choose should reflect your tastes and needs. Some of the most important include style, outsole type, support, stability, flexibility, and versatility. Then there are all the other things you should think about when choosing any pair of shoes. Consider ingredients such as comfort, material, weather resistance, weight, and value for the perfect complements. So before you go about looking at golf shoes, consider where you play, how you play, and what conditions you play in. These details will help you find the ideal pair of golf shoes to suit your needs. With that said, let's find out how to cook, err, how to choose golf shoes. You ready?
How to Choose Golf Shoes
Start With: What's Your Style?
You perform better when you're feeling absolutely confident. Everyone knows this. And if you're looking great on the field, chances are you'll be playing great as well. So, when learning how to choose golf shoes, it's important that your shoes match your style. Most golf shoes can be broken down into two categories: traditional dress-style shoes and modern sneaker-like shoes. And then there are golf sandals as well, which we'll touch on briefly.
Traditional golf shoes – Not as flexible or breathable as modern golf shoes as they're made of real leather. But, they can be very comfortable after breaking in and offer more stability. Looks darn good with a pair of golf pants though. They are also very tough and durable, as long as you take good care of them.
Modern golf shoes – Modern golf shoes are more like sneakers, with added flexibility and range of movement. Most are pretty lightweight, which can help immensely with long games and walks.
Golf sandals – Golf sandals are great for warmer weather and more casual games, but lack the performance of actual shoes. They are light, breathable, and offer a lot more freedom. However, you can forget about them if there's bad weather or rough terrain.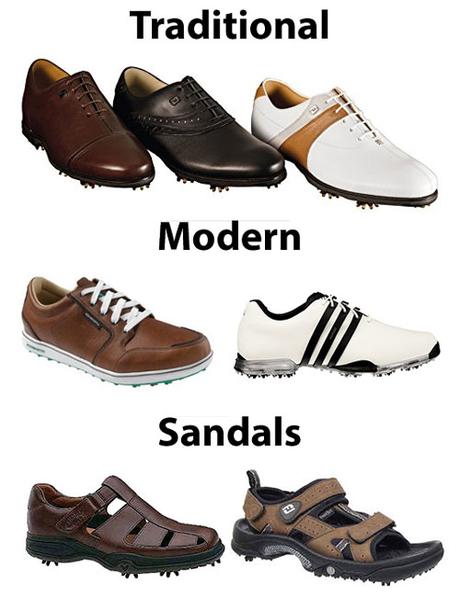 Pick One: Spikes or Spikeless?
Since we're talking about how to choose golf shoes, it's important to talk about the outsole type. Golf shoes feature either spikes (cleated) or a spikeless design. What you'll want will depend on terrain conditions and personal taste.
If you're going to go with spikes, make sure they are plastic as many golf courses are slowly banning metal spikes since they ruin the greens. Spikes generally offer more traction and grip for terrain such as hills and wet courses. They also offer more stability which is great for protecting your ankles.
Spikeless shoes, on the other hand,  feature small rubber nubs on the bottom to give you traction and a lower profile to the ground. Spikeless shoes are great for high-range movements such as pivoting for fuller swings. They are often lightweight, more flexible, and more comfortable. You can even wear them off the golf course if you really wanted to.

Add in Support & Stability

Golf shoes should fit tighter in the midfoot for better stability. Your feet should not be able to move while in golf shoes except for a little wiggle room for your toes. Your heel should also be locked down as well. There should also be a good amount of lateral and arch support. Look at the upper of a shoe to determine how much lateral support it will have. Uppers should be tough around the midfoot while flexible in the forefoot. An upper that is too flexible will throw off stability during full swings. Also look at the midsole to ensure that it's comfortable and durable. You can also consider memory foam and orthotic insoles for additional support and comfort.
Don't Forget a Little Flexibility
Golf shoes should be fairly flexible in the forefoot for when you're pivoting during swings. It might actually surprise you to find out how much you're on your toes when playing golf. Dynamic movements require bending the toes, but you might also notice that people tend to bend their toes slightly when walking. And since most games require you to walk a few miles, you certainly don't want to have a shoe that's too stiff. Ultimately, having stiff golf shoes will reduce comfort and enjoyment of the sport.
Coat With Versatility
Do you want to know how to choose golf shoes that are great? We'll clue you in. A great pair of golf shoes should be able to perform well on different types of terrain on the course. Whether on the fairway, rough, green, or bunker, a shoe should provide adequate traction on all these types of terrain. This is especially true for hilly courses where stability and grip are key. In addition, golf shoes should be able to perform well in different field conditions, including wet and dry fields. You can never really tell how versatile a pair of shoes are unless you test run them in person.
Mix Well With Other Essential Criteria:
Comfort – One of the most important factors to consider when learning how to choose golf shoes, shoes should be comfortable to wear at all times. They should not cause any discomfort in a variety of foot positions. Also consider memory foam as that can greatly improve comfort.

Materials – A number of different materials can be used to make golf shoes. The most popular are leather, synthetic leather, Gore-tex, mesh, and polyester. Traditional golf shoes have always been made of leather, and although it's very comfortable, they aren't as flexible as other materials. They are long-lasting and more weather-resistant though. Synthetic leather is more cost effective and performs very similar to real leather. Gore-tex is a fully waterproof material that is great in colder weather. Mesh can add a lightweight, breathable feel. And polyester, which is a thin and light material, can often be used as a lining to reduce wear.

Waterproof – Waterproof shoes are important when playing in colder seasons and on wet fields (especially early in the morning). What could be worse than playing your favorite sport in soggy shoes? So look for a waterproof exterior that can wick moisture away.

Weight – Although not crucial, you'll still want to consider how lightweight your golf shoes are. You don't want to be lugging around or playing in a heavy pair of shoes all day as it can get tiring quick. A standard game of 18 holes takes the average golfer 4-6 hours to finish, and about 5 miles to walk.

Value – When it comes to the price of golf shoes, you'll quickly notice they can vary by a lot. Most golf shoes will run anywhere from $50 to over $200, with most in the $100-$200 range. A variety of factors will determine the price, including comfort, style, and materials used. There's really no right answer to how much you should spend. A better way of looking at it would be to ask yourself what would bring you the most value? If you don't golf as often, it doesn't make sense to spend a bunch of money on a very expensive pair. Of course, if you're looking for top-tier performance, don't skimp out on cost.

Our Recipe on How to Size Golf Shoes
Fit golf shoes with socks for a more accurate fit
Try on several sizes to determine which ones fit best
Try on shoes at the end of the day as feet swell throughout the course of the day
Walk around in golf shoes to ensure that they are comfortable in all positions
Try out shoes in a variety of angles and positions to determine if there is any pressure or discomfort
Test out your swing in shoes if possible. Some stores even having putting greens for testing
Consider adding insoles for additional comfort and support
Remember that some newer shoes will start off stiff and will break in with time
Your heel should be snugly locked down with some room in the forefoot for comfortable toes
They should not be too loose that you can move your feet around. Loose shoes can cause instability
Good shoes should allow your feet to breathe, don't let them suffocate!
***Tips on How to Choose Golf Shoes***
Comfort should be the highest priority, as an average game takes ~5 hours and requires ~5 miles of walking
Traditional shoes use leather, making them more stable, longer-lasting, but less flexible
Modern shoes are more sneaker-like, which equates to more flexibility, less weight, and more comfort
You can wear golf sandals in warmer weather or for more casual games
If you're choosing shoes with spikes, make sure they are plastic as metal is slowly being phased out
Golf shoes should fit tighter in the midfoot while remaining flexible in the forefoot
Look for shoes with memory foam or add orthotic insoles for additional support and comfort
Great golf shoes should be versatile on different terrain, whether fairway, rough, green, bunkers, or hills
Look for waterproof shoes if you plan to play during colder seasons. Gore-tex and leather keep water out

Get lightweight shoes if you don't want your feet to ache after several hours of play and miles of walking
More expensive golf shoes don't always equate to better durability, but moreso high performance
When learning how to choose golf shoes, make sure you fit them properly for the best performance