Wondering how to choose basketball shoes? We thought you'd be. With a plethora of shoes on the market, it may be a daunting task for new players to find a shoe that's perfect for them. Although we understand that design plays a huge part in what you'll be picking, it shouldn't be all you look for. It is also crucial to take into account functionality as well. What exactly goes into a pair of basketball shoes, what should you prioritize, and what are other important features you should look for? We'll cover all of that here in our guide on how to choose basketball shoes. Hope it helps!
How to Choose Basketball Shoes Infographic




How to Choose Basketball Shoes: In-Depth



Step 1: Discover the Anatomy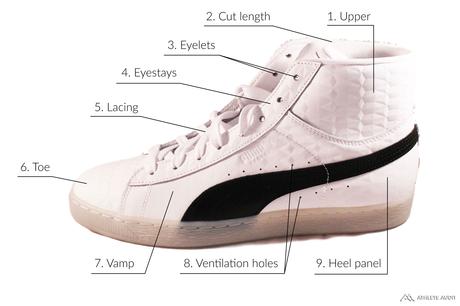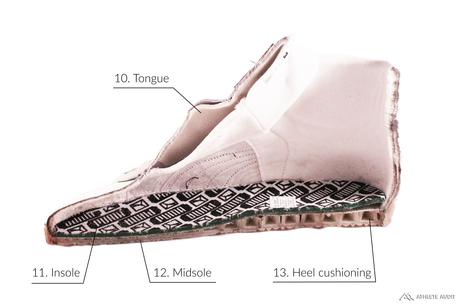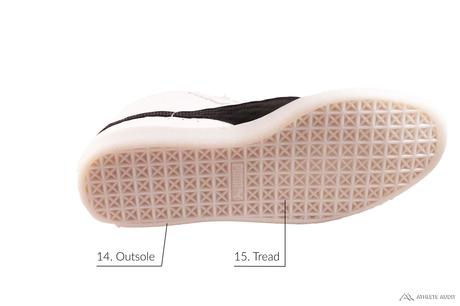 Upper – Can be made out of a variety of materials, such as leather, synthetic mesh, synthetic leather, canvas, etc.
Cut length – Basketball shoes come in low-cuts, mid-tops, and high-tops, each offering differing levels of mobility and ankle support
Eyelets – Small holes in the eyestay keeps laces in place
Eyestays – Keeps laces and eyestays in place
Lacing – Laces are very common although straps, velcro, zippers, and hook-and-loop closure systems can also used
Toe – The very end of the shoe, some basketball shoes make use of a toe guard for added durability
Vamp – The part of the shoe behind the toe that covers the forefoot and midfoot, should be flexible
Ventilation holes – Provides some breathability to eliminate excess moisture
Heel panel – Covers the heel portion of the shoe
Tongue – Often thin but padded for comfort
Insole – Essentially a bed for your feet, provides comfort and support. Some are removable so you can add your own
Midsole – Fits in-between the insole and outsole. Is often thinner in the forefoot and thicker in the heel
Heel cushioning – Many basketball shoes have some form of heel cushioning for shock absorption, such as air bubbles, gel cushioning, etc.
Outsole – The rubber sole of a basketball shoe. It's very durable and provides superior traction on slick indoor courts
Tread – Most use herringbone tread that is flat and non-protruding for the most contact on indoor courts. May have flex grooves for flexibility
***Choose your material based on your needs as a player. Uppers made with softer materials are more flexible, breathable, and lightweight but not as durable or supportive, while uppers made with tougher materials are the other way around.***
Step 2: Prioritize the Sole
The soles of basketball shoes are a very important feature that shouldn't be overlooked. Basketball shoes are supposed to provide the best traction you can possibly get (assuming you spent enough) and you should always feel solid and secure while wearing a pair, whether indoors or outdoors. The sole should be flat and made of non-marking rubber, with a unique tread pattern with ample flex grooves for full range of motion. Most soles will make use of a herringbone tread pattern or at least a variation of it. While a thinner sole helps with "touch" and keeps you lightweight, a thicker sole helps with durability.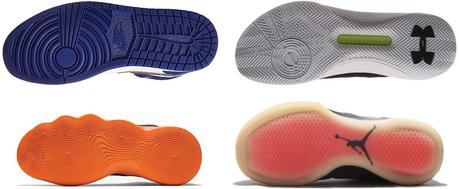 Step 3: Choose the Best Cut Length
Basketball shoes come in either low-top, mid-top, or high-top form, each with its own advantages and disadvantages. Although mid-tops are highly popular and are versatile enough for a large number of players, some may prefer more mobility or support/protection. What cut length you should get will be highly dependent on your position, needs, and inclinations as an individual.
Low-tops – Best for guards who need to stay agile. Although lightweight and the least restricting, there is not much protection or support.
Mid-tops – Best for all-around players, mid-tops are the most popular cut length and with reason. They combine the best of both worlds, offering more protection and support than low-tops while not being as restrictive as high-tops. If you're unsure of what cut length to go with, mid-tops would be a solid choice.
High-tops – Best for forwards and centers who need a lot of lateral support. With a ton of protection, support, and stability, your ankles will personally thank you for all of those quick cuts and side-to-side movements you'll be doing. However, high-tops tend to be heavier and more restrictive.
Step 4: Find the Right Fit
Signs of a Perfect Fit
Fits the volume and width of your foot
1/4-1/2″ of space in the toe with a snug forefoot and heel that doesn't slip
Absolutely no pain, discomfort, or irritation
Even tension over the arches and midfoot
Perfect amount of support and cushioning
Flexible enough for dynamic movements
Tips for How to Size Basketball Shoes
Try running, jumping, stretching, and standing on your toes to ensure comfort
Shop in-store and in the afternoon for the most accurate fit
Wear socks you intend to play with while sizing for shoes
Consider adding your own insoles/orthotics for a better fit or more comfort
Try on multiple sizes of the same shoe to find the best fit for you
Consider whether materials will stretch; real leathers stretch, synthetics don't