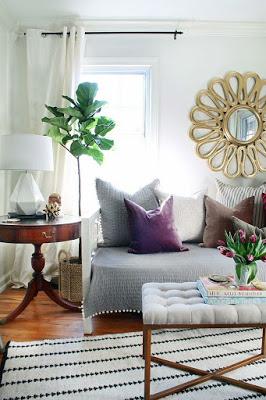 The primary reason for the growing popularity of daybeds is their functionality. They can be used as couches as well as bed, and may also house an additional trundle bed or storage drawer. Sometimes, they may be used even as mere space fillers when people hunt for ideas to fill up a spare room.
Since daybeds can come in different styles, materials, configuration and price, it may be helpful to have some knowledge about the various aspects and features when buying a daybed. 
Uses
Daybeds are commonly kept in home offices or spare rooms, and used for accommodating guests. They are used as chaise loungers or sofas most of the time and are  used for sleeping. Sometimes they may even be placed in a kid's room. The trundle underneath can provide for a comfortable sleepover.
Material
Daybeds are generally manufactured in wood or metal, sometimes in combination of both. They may also be found in wicker and leather. No matter what material is chosen, the selection has to be something that fulfils personal needs. Metal options usually exhibit a traditional look and are ideal to be used primarily for sleeping, while the wooden variants are more contemporary and can be used mainly for lounging and sitting.
Style
Choosing a style which complements the remaining decor of the room is also important. Some of the popular style options include Mission, Victorian and sleigh. However, one may also find a low profile variant with very sleek and simple lines. Traditional ones with intricate carvings and an elaborate style are available too.
Colour
There are a wide range of color options to choose from when buying a daybed. Painted, dark or light wood are among the popular choices, whereas some of the common preferences in metal include such colours as silver, brass, chrome, etc.
Mattress
A typical daybed in Northern Beaches is usually made in twin size and as such, requires twin sized mattresses. The daybed is supported either on a link spring or wood slat and the type as well as upholstery of the mattress dictates the level of comfort a daybed would be able to provide.
Bedding
While using standard twin sized sheets and double pillows can pretty much do the trick, extra attention must be given to cover. Adding more pillows can make the place more congenial for sitting, lounging and sleeping. Tailored or fitted covers are excellent choices if sitting would be the primary purpose, and sliding and shifting are not among preferences.