Nursing home abuse is probably the most common worry and fear of anybody who's thinking of placing their elderly loved ones in a nursing home. This problem can happen in any nursing home, even in some of the best ones in the country. The scary thing about nursing home abuse is that it is oftentimes very well hidden or ignored. It's only when the signs of abuse become so apparent that something is done to stop it.
While it's difficult to detect nursing home abuse, it's a bit easier to prevent it from happening to your elderly relative. Below are three things that you have to take into consideration when choosing a nursing home.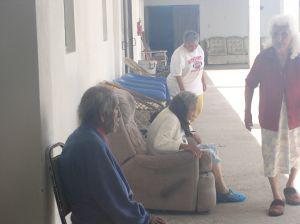 The Facility
The first and most important thing is to choose a nursing home facility with a good reputation. Don't just rely on what you see from their ads and hear from other people. Instead, visit the facility. Better yet, visit the facility unannounced. After all, the best way to see how a facility is being run is by popping in unannounced. This way, the employees have no way of hiding traces of nursing home abuse, if ever there is any, of course. There won't be enough time to get rid of the unpleasant smell from unwashed bodies or from human waste, and there won't be enough time to clean the facility. What you see when you step inside the nursing home is how the facility is being run on a daily basis.
The Residents
Let's say for example that the facility looks picture perfect, then the next thing to consider is the residents. A good sign is when you see them in recreational areas such as the activity center or the lounge area. It's also a good sign if you see them outdoors or even in the dining area. This means that residents are allowed to have more freedom and live life as normally as possible. However, if the residents are all locked in their rooms even when there's a good reason why they can't be outside, then it's a bad sign. This reeks of sloppy and lazy service where the caregivers are more comfortable having them tucked inside their rooms.
While you're checking out the residents, it's also important that you look for telltale signs of bruises, cuts, scrapes, abrasions, and other signs of injuries. The most common areas where you will see them are on the upper arm and neck and facial areas.
The Caregivers
Checking out the caregivers and seeing how they interact with each other is also a good way of preventing nursing home abuse from happening to your elderly family member. Remember, satisfied employees are able to provide excellent service, while disgruntled ones may take their frustrations and dissatisfactions out on the residents. You definitely don't want someone maltreating your elderly family member simply because they're not happy with their job.
Remember, one of the reasons why residents suffer from nursing home abuse is because their relatives failed to choose a good home for them. They were not able to scrutinize the facility properly, so they missed the signs of nursing home abuse.
If you suspect that your loved one is being abused in the nursing home, then get in touch with your personal injury lawyer immediately to seek justice for what the he or she is going through.
Jennifer Dalbeck, a freelance content writer, provides articles for the website of a Glendale personal injury attorney. She mainly writes articles regarding nursing home abuse and vehicular accidents.