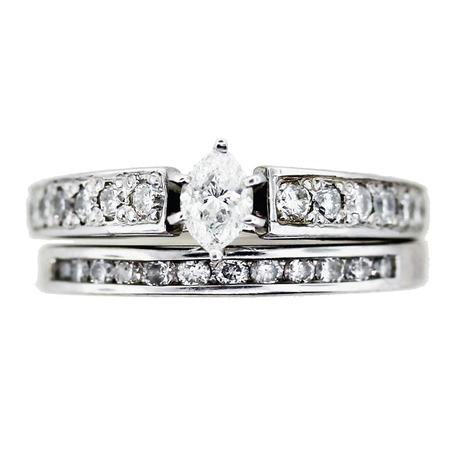 Like to see beautiful jewelry, visit our jewelry shop where we feature items such as this 1/2 Carat Diamond Engagement Ring and Wedding Band Set Marquise Cut
The jewelry industry has a tremendous following comprised of over 77,470 stores listed with Manta, an organization that promotes small businesses worldwide. With such an enormous group of retail jewelers, there is plenty of opportunity for consumers to select exactly what they want. Indulgence, a deserved gift, a gift of love, whatever it can be called, the decision to purchase gold, diamond, silver, or platinum jewelry is simply that; a personal choice that requires no explanation.
But, what if you sincerely want to purchase something luxurious and don't even have a clue what kind of jewelry you really like? Well, a solution may be to discover your likes and dislikes when it comes to gems, precious stones and precious metals. Let's take a look at some points to consider that just might solve your dilemma.
Four Steps to Remember
1. Decide the purpose for buying the jewelry. If this is a purchase for a loved one or friend, then it is most likely not going to require a lot of your personal input. At any rate, figure out when you plan on wearing the fine piece, i.e., dinner dates only, a wedding, as casual wear, etc… Once you have a good idea of why and when the jewelry will be worn, it is time to move on in the process.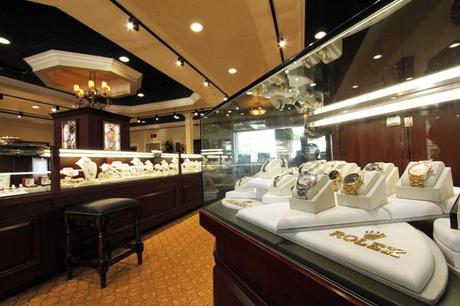 2. Now that you have a few answers regarding what you need to look for, the time has arrived to select your jeweler. Being a vital choice in making a selection, do not forget to consider a couple of aspects of a jewelry store.
First, do they have a reputation that is trusted by those you know or have testimonials by customers?
Second, watch how they treat their customers overall.
Third, will they help you find something if what you seek is not in their store? This should get you started, but feel free to come up with more things to research.
3. Begin trying on jewelry of various styles and types that fall within your criteria of what you like. Make sure the jeweler does not have a problem with this before you begin showcasing jewelry. During this time, be selective and very specific as to how the jewelry feels and looks on you. An uncomfortable fine piece of gold or diamond jewelry is worth far less when you can't stand to even put it on.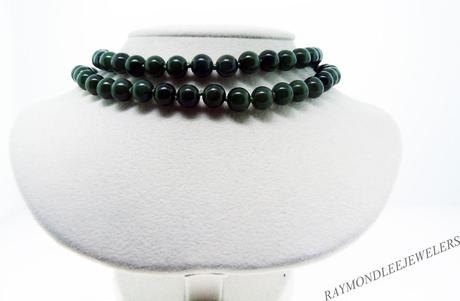 Feast your senses on this Double Strand Jade Bead Necklace with Decorative Jumbo Lobster Claw Clasp
4. Finally, keep the budget figures very handy, look at it often as a reminder that you can only spend a certain amount. Not being financially disciplined with a jewelry purchase can be devastating to your pocket book, bank account, credit card balance, and so on. Enjoy the shopping experience while you shop and after you make the purchase; buyer's remorse can ruin the entire experience.
Now then, breathe deeply and slow down before jumping on the computer or in the car to start jewelry shopping. Following these four simple and progressive steps that may help keep things in perspective without ruining a wonderful time of indulging a little in some gold, diamond, or other fine jewelry. You may be a woman or a man reading this fantastic guide to jewelry selection, it really doesn't matter.
By James, a blogger for Raymond Lee Jewelers, the most trusted resource in Boca Raton for jewelry industry information and products. Learn more about how to buy jewelry by subscribing to our blog, follow us on Twitter, like us on Facebook or sign up for our newsletter ~  ~ http://shop.raymondleejewelers.net/
What are you waiting for? Print out the steps, put the paper in your pocket or purse, then start shopping!