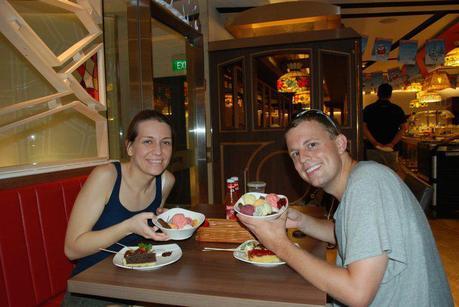 How do you apologize to someone you love after leaving them to travel the world for 5 months with only seeing them via Skype every few days?  I knew that Angie's arrival in Singapore shortly after Christmas was going to be an emotional reunion.  Most of all, I had to make the previous five months up to her somehow.  Sure, I proposed to her in Thailand a few weeks later, but I needed something more immediate.  The Swensen's all you can eat ice cream and dessert buffet did just the trick.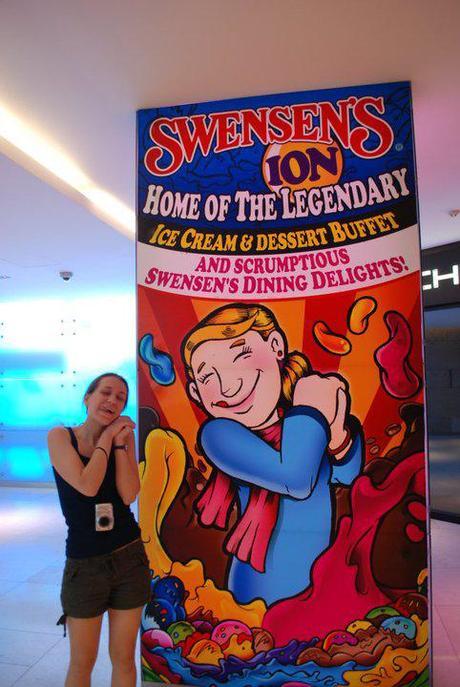 Before arriving in Singapore I had no idea what Swensen's was or even that they had an all you can eat ice cream and dessert buffet in one of the major malls.  Walking through Orchard Road one day I was greeted with inspiration in the form of a happy girl enjoying ice cream at the all you can eat buffet.  Inspiration not because the ad was calling me, but more because the girl looked a lot like Angie does when she eats ice cream.  Done deal, I decided we were going immediately.
When Angie arrived and I brought up the idea, I thought she might look at me weird.  She just spent over 24 hours traveling to see me and I am asking to take her to get ice cream?  Afterall, we are in the land of chili crab, hawker centers, and amazing Asian food she was craving for months.  But the minute the word buffet came about she was sold and off we went.  For those who do not know us personally, the essence of our very being revolves around ice cream, so it actually is not that big of a shock that we both were eager to go.
Inside the Ion Center on Orchard Road is a Swensen's like no other.  While it is a restaurant, their main feature is a monstrous ice cream and dessert buffet that has over 50 kinds of ice cream, two chocolate fountains (one milk and one white), an impressive fruit display for dipping, a half dozen or so cakes, as well as a toppings bar bigger than most normal ice cream shops.   For $15 per person, it isn't a bad deal.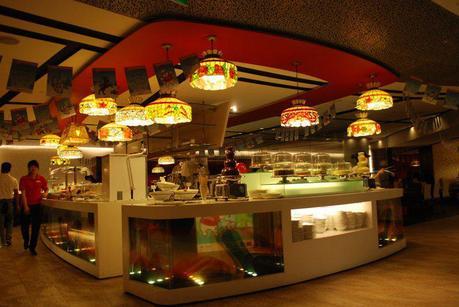 Naturally our competitive nature took over, and we raced each other to see who could eat the most ice cream.  Our long standing rivalry on who likes ice cream more reached a fever pitch where we put our stomachs to the test and even sampled Durian.  Having had Durian several times in my travels, Durian ice cream is one of the worst and something I would never subject Angie to ever again. 
The biggest surprise of the day was purple yam ice cream.  Slightly savory and slightly sweet, the flavor was a mix of all things delicious and reminded us quite a bit like the taro ice cream we get at our favorite frozen yogurt shop at home.  Covered with marshmallow fluff, Angie was hooked and would go on talking about it for the rest of the trip (and several months after).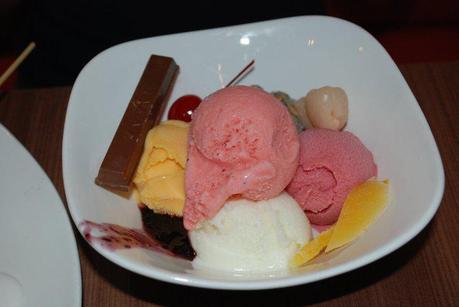 When it was all said and done we had over 21 chocolate covered strawberries, 25 scoops of ice cream, and more toppings than we'd like to admit in writing.  Regardless of who is currently winning the rivalry (Angie won that day), the ice cream and dessert buffet was a great way for us to enjoy each other's company with something we love after being apart for so long.  It was only after we ate at the ice cream and dessert buffet that we found out about the nearby chocolate buffet, but that sadly has to be saved for our next trip to Singapore.