In social media, using the @ symbol to m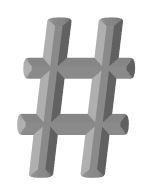 ention a person and the # hashtag to label things have become incredibly popular, to the point that most of us may have trouble remembering what the world was like before their rampant use. The @ symbol made its debut on Twitter in 2006 and Facebook added the ability to mention people using the @ symbol in 2009.
The use of the @ symbol on Twitter was actually introduced by a user, rather than by the company itself. Now, the symbol is used across nearly all social media platforms, including Twitter, Facebook, Instagram, and Google+. From a marketing standpoint, this has been good for the social media giants, as there is some continuity across all networks. At the same time, a few networks, like Snapchat, are choosing not to incorporate these popular symbols.
The hashtag has a similarly interesting history. Making its debut on the Web in 1988 on a chat service called Internet Relay Chat, the hashtag was used in a similar manner to now. Groups of users would be labeled with a #, such as #women for a group of women who were chatting. Twitter then adopted the # to be used to categorize tweets by what was being commonly talked about.
Since then, many large social networks have adopted the #hashtag in order to classify what's being talked about by users. Hashtags are great for a several different uses and unwritten "rules":
Use hashtags to see what's popular in the world right now – both Twitter and Facebook have places to see what hashtags are trending. Click through these to explore what people are talking about.
Use hashtags for marketing – lots of companies have seen great success with picking a unique hashtag and using it for marketing campaigns.
Keep your hashtags simple – long hashtags are not only really hard to read but they are less likely to be utilized by other people who don't want to type it all out.
Choose hashtags that are easy to remember – using hashtags that are short, sweet, and are commonly used words will help to get your message across.
Search your hashtag idea before you use it – make sure that someone else hasn't used the hashtag that you have in mind for something completely different. Not only could it be confusing, but can save you the mistake and embarrassment if your topic is totally unrelated.
How does your business use the @ symbol and the #hashtag in your social media strategy?