Have you ever had those words popping up from your mouth when visiting a touristic place? You felt like, arghh, no no, it's waaay too mainstream for me, half of the world visited this place, I am an exclusive traveler, I won't do what ordinary traveler with an ordinary though will do.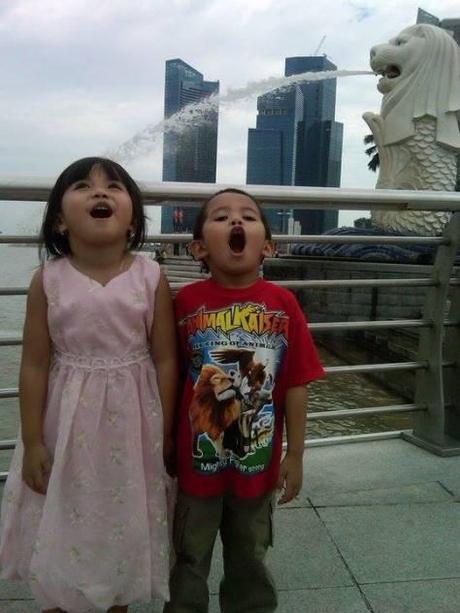 Gaping our mouth as if we hold the water, one of popular pose when taking picture in Merlion Singapore (Om Ted's property)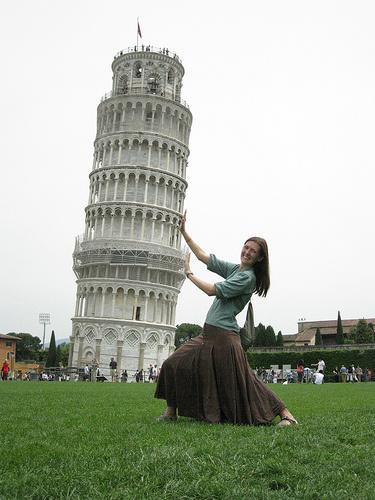 The legendary pose, holding the falling Pisa
Take an example, what's on your mind when hearing Kuta beach? Petronas Twin Tower? Eiffel Tower? Taj Mahal? One word, for sure, to describe all those sites, "TOURISTY!" And other words to explain "TOURISTY word", crowded! And the worst definition I ever got from some people, by saying "TOURISTY", the place must have been very ordinary, nothing really special, or maybe it supposed to be special until thousands people come and pay a visit.
Some people may say, why visiting tower of Pisa and doing the tradition "as if you hold the tower in order not to get it fallen" photo session? Or, does it worth to pay USD 20 one day tour ticket to Angkor Wat, Cambodia.  Or, will you visit "a must visit iconic tourism site" to show people that you've been to a country?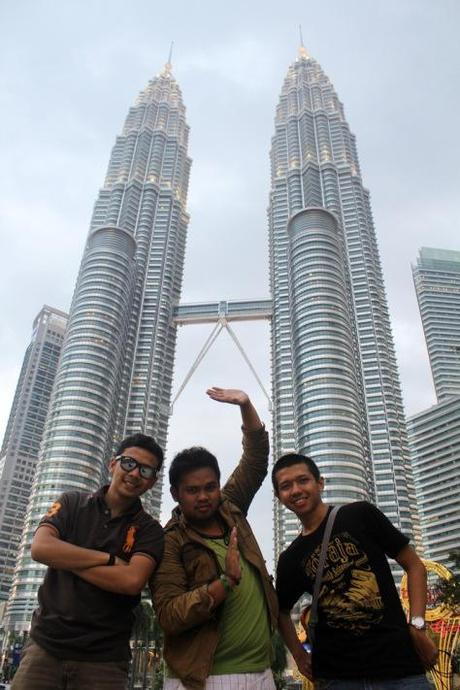 Petronas Twin Tower, how Mainstream this site is?
The next question comes up. What if we ever did all those "MAINSTREAM" things, is it taboo? Does it turn you to become an average level of traveler who has a very lame sense of deciding what epic  tourism site should be visited? Does it mean that by visiting an  undiscovered site, you become more special than the one who could just spend their time in touristy destination?
Most of the reason why people avoid touristy destination is because they don't want to be equated. Yeah, it's natural when person want to be differed and treated exclusively. For travelers too, they feel that visiting an ordinary place, doing the common thing which most traveler will do is not so special and will not leave such perfect impression. Therefore they'd rather visit Sungei Road Thieves Market than greeting Merlion in Singapore, or maybe they will go to the Ancient Observatory than spending the whole day climbing Great Wall in Beijing.
Also, mostly people who avoid touristy destination have more time compared to the other. They have more time to google unique/ weird/ unusual/ non-mainstream places, they have more time to explore even the corner of the city to find something hidden. Meanwhile some who doesn't really have much time should be satisfied by just visiting the popular sites.
Then again, back to the question, what if we don't have opportunity to be a non-mainstream traveler? is our trip boring? Aren't we allowed to be proud of our ordinary travel records?