Thanks to our good friends at Moscow Municipal Programs for the latest on how Russians use social media.
Of course Russia has them all: Twitter, Facebook, Vkontakte, odnoklassniki.ru, and the large blog hosting site LiveJournal.ru. Although Facebook seems to enjoy steady growth each year, the big dog on the block remains Vkontakte, or vk.com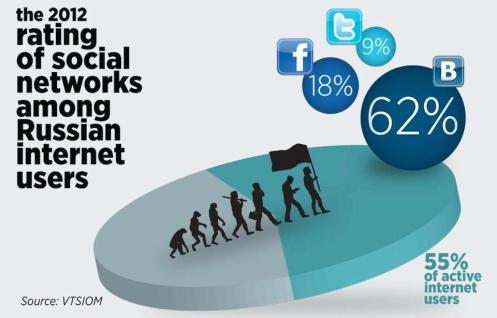 The lastest study shows that 55% of Russia's active Internet users are part of a social media network and a whopping 62% of them are subscribers to the popular vk.com (Vkontakte) social media service. For non-Russian speaking readers, the letter B in Cyrillic is a "Veh" (V).
According to the study only 9% use Twitter. The once large odnoklassniki.ru site has fallen dramatically in recent years.