This post was written for inclusion in the monthly Homeschool Blogging Carnival hosted by Lisa at The Squishable Baby and Keisha at Unschooling Momma. This month our participants are talking about schedules.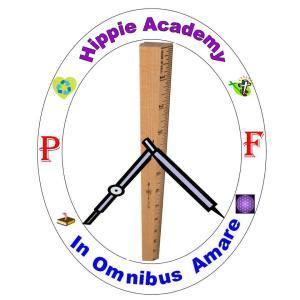 One of the first questions people ask us when they find out we homeschool is, "How Much Time Do You Spend On School?"
The honest answer is, we spend ALL of our time homeschooling.
When we are walking down the street and I say, "this morning on the news I learned that the fish in lake Erie are being destroyed by Asian carp – how do you think those carp got in the lake?"  We are homeschooling.  We are learning about ecology, biology, earth science, geography, politics and more.
When we are driving and my daughter is in the back of the van, independently reading the latest Bone book we are homeschooling.
When we are cooking and I say, "This recipe calls for 2/3 cup of flour but we are doubling it. How much do we need to use?"  We are homeschooling.
When my son wakes up in his crib and I go get him and he rubs his eyes and says, "Look it, Mama! My guys are on the floor!" (He throws his stuffed animals out early every morning. It's a ritual. I don't get it, either.)  And I reply, "Oh, no! The guys are on the floor! How many guys are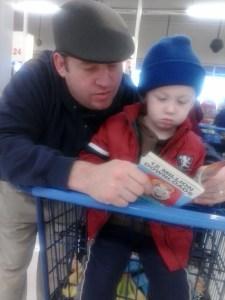 Practicing letter recognition in the grocery store checkout.
there?" And we count them as we put them back in the bed, we are homeschooling.
Homeschooling, the way we do it, is a way of educating our children as we participate together in the activities of every day life.
"Yes," you may be thinking, "but how much time do you spend… you know… doing SCHOOL?"
To answer that, let me explain a little about how things work in our home.
Handsome Hippie Hubby works Wednesday – Sunday, from 3 pm to 11 pm.  I work Monday, Wednesday and Friday from 9 am-1 pm. I am a church secretary and the pastor and board are super-gracious in letting me bring Sweet Hippie Daughter to work with me.  So our week breaks down like this:
On Monday and Wednesday Sweet Hippie Daughter comes to work with me, because it's generally a quiet place where she can work, uninterrupted.  She does math, reading, writing, practices trombone and works on creative projects from 9 am until 1 pm.
If she has something special going on she can use that time to focus on her project.  Last November it was her Nanowrimo book.  This past week it has been memorizing the script of a play she's in at the end of this month.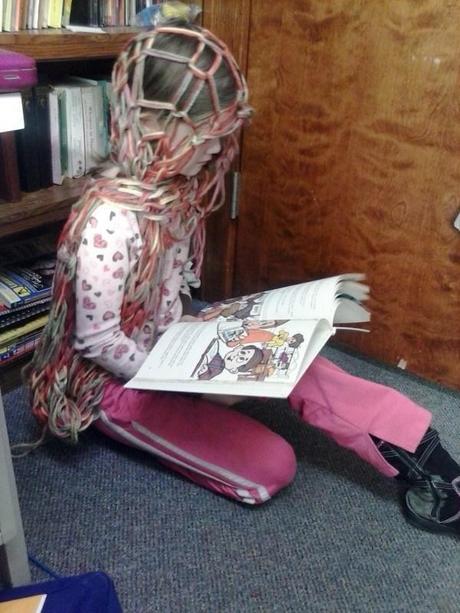 Reading a biography about the Mayo brothers in a quiet corner or Mama's office. Why does she have a net on her head? Your guess is as good as mine but she's reading and she's happy so… yeah… just roll with it.
On Friday mornings she stays home with her Daddy and he helps her with math and science, and practices music with her (they are in homeschool band together).
Additionally, she has archery on Monday nights, band class on Tuesday mornings and theater class Tuesday afternoon.  Our homeschool association sponsors field trips, spelling bees, gym class and other special activities that occur throughout the month with varying frequency.
That's it.
How can we get a whole week's worth of school in, in 3 half days plus a few extra classes?
Again – we school ALL THE TIME.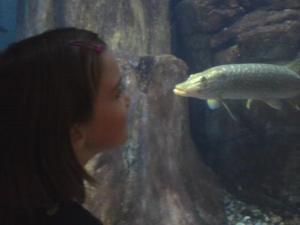 We just don't spend much time sitting still.  We go to museums and parks. We read a lot, sprawled on the couch or tucked under the warm covers of our beds. We look interesting facts up online. We watch documentaries.
And we talk.
We talk to our kids constantly.  We don't just lecture them, we engage them in conversation.
"What do you think about…?"
"Did you hear that….?"
"I wonder why…?"
Think how much of a 7 hour school day is spent in transition or waiting for some kids to be done with something other students have already finished.  Factor in lunch and recess, break times, the 15 minutes at the end of the day packing everything up for the trek home and how much time do public school kids spend in formal learning?  I bet, hour for hour, it is about the same.
But you see how the question gets tricky.
Now, let me turn the tables…
If you are a homeschooler, how much time do YOU spend on school?

Visit The Squishable Baby to see how you can participate in the next Homeschool Blogging Carnival where we will be talking about multiculturalism.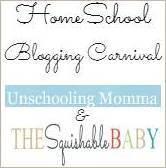 Please take the time to read the submissions by other Carnival participants:
Keisha at Unschooling Momma will talk about Unschooling and Schedules

Lisa at The Squishable Baby Will talk about How I find time to blog while homeschooling 3 Kids.
Are you, too, seeking to save the earth, promote world peace and raise productive citizens without expending too much effort?
Why not follow Lazy Hippie Mama  by email, Facebook, Google+, Twitter or Instagram to get all the updates?
If we work on our goals together, they may be a little easier to achieve!