Proposing to the love of your life is a once in a lifetime experience. There is no experience quite like the moment when you lay your love on the line for someone you want to spend the rest of your life with. For this reason, many men will put a great deal of thought into all the details of their proposal: where he will propose, what he will say, what the ring will look like, and numerous other considerations that must be thought about in advance. When it comes to choosing the right engagement ring, there are a number of things to consider. While price is not the most romantic aspect of the proposal, it is nevertheless something every man has to think about, and at some point, he'll ask himself "How Much Should I Spend on An Engagement Ring?" Money spent on an engagement ring is money that cannot be spent on a wedding, honeymoon, or down payment on a house. Fortunately, you don't have to spend your life's savings to get engagement rings in Boca Raton.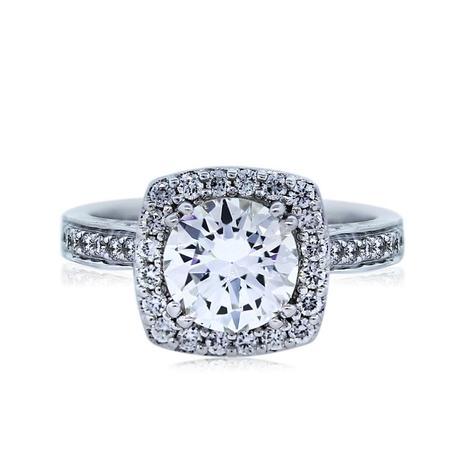 Round Brilliant Halo Style Engagement Ring Set in a Cushion Shaped Halo
In 2008, Jay-Z spent about $5 million on an 18-carat emerald cut diamond for his fiancé Beyoncé. While her ring is no doubt stunning, you fortunately don't have to spend anywhere near that amount of money to get the perfect engagement ring. According to Glamour.com, the "average" guy spends around $5,000 on an engagement ring. However, it is important to remember that this is an average, which means it includes men in their 30s and 40s that might have a lot more income and savings than someone in their 20s just starting their career.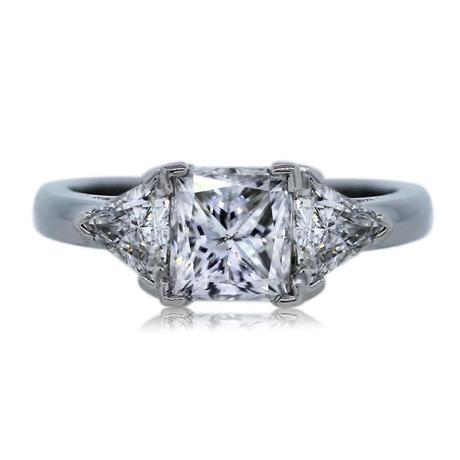 Princess cut diamond ring with trillion accent stones in platinum
Money Under 30 offers a different set of criteria. Instead of focusing on a specific amount of money, or a certain number of month's worth of salary, you should choose an engagement ring that has some specific meaning or relevance to your relationship. This can be a family heirloom or a customized design in a stone less expensive than a diamond. In addition, they strongly advise against going into debt to pay for an engagement ring, as this will ultimately be a debt burden you will have to share with your bride to be. In the end, the amount of money you spend on an engagement ring should seem right to you. It should be an amount that is meaningful without causing an unnecessary burden. Remember, it really is the thought that counts.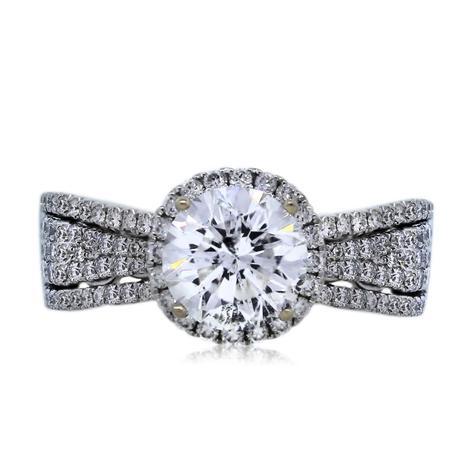 18k White Gold 1.14ct Round Brilliant Halo Set Engagement Ring
The key to finding the right ring is to go to one of the reputable engagement ring stores in Boca Raton. The best place to buy an engagement ring in Boca Raton is Raymond Lee Jewelers. In business since 1983, Raymond Lee Jewelers has a wide selection of designer engagement rings, vintage engagement rings, as well as a servicing center for any repair or cleaning you need done on family heirlooms or any other piece of jewelry that needs servicing.