Today I'm answering one of my favorite questions: how long does it take for an engagement ring to be ready?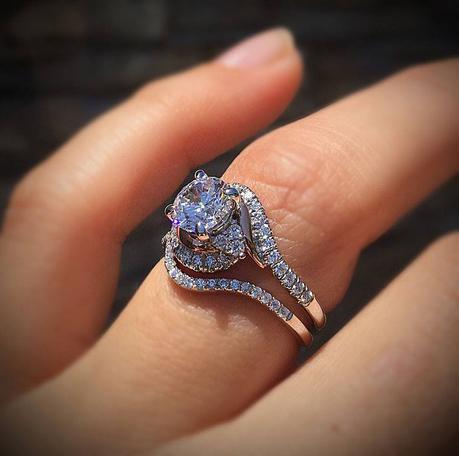 Click here to shop
It's my fave because it implies several things:
The groom is ready to do the damn thing. Our generation (my husband included) tend to research things to death. This groom's already done his due diligence, and now he wants to know when he can schedule his flash mob/ start buying rose petals and votives/ fly in every member of her family to their upcoming beach vacation/ figure out how to bake the ring into her favorite flavor cupcake (don't do that last one, bro.)
He's already found the ring – or is asking this question to narrow down his selection
He has a proposal timeframe in mind.
I love a man who knows what he wants and goes after it! And I don't fault him one bit for having no idea how long it takes for an engagement ring to be ready. Though my How Long, How Long post should be required reading at this point. But that's between me and the new Pinterest algorithm, so I'll leave the gents out of this.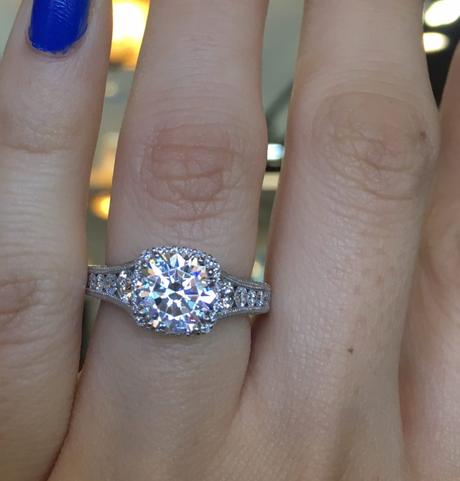 Click here to shop
And ladies, if you're Googling "How long does it take for an engagement ring to be ready?" so you can plan out your mani-pedis for the next few months and get to practicing your surprised faces, I hope this post will be illuminating for you too.
Let's get started. As with all things engagement-and-wedding-ring, several variables determine the outcome you're looking for. Most importantly for today's discussion, we need to know if you've got the center stone or not.
If you do have a center stone, thanks to Great Grandma or a great deal you found online that you wisely researched ahead of time, all you need is your setting. I'll get to that in a moment.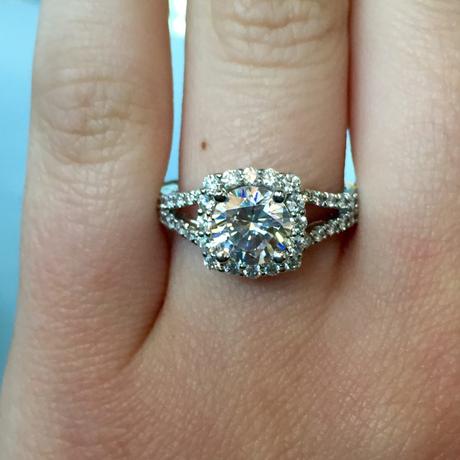 Click here to shop
If you (like 90% of all couples) don't have a diamond lying around, you should shop for this first. There are exceptions, which I'll obviously also get to because you know I can't leave a good aside well enough alone. Anyway, look for your center diamond first. I'm sworn by my duty to House Stark to remind you that you need to brush up on your 4 C's first, have a firm and responsible budget in mind, and know the tools available for you to make your/her dreams come true.
You can shop for your diamond first, then get the perfect setting to suit it, you can find both at the same time in a magical place like DBRL where you only have to park once, our expert sales team will serve you up rings like a flight of craft beers, and my boss might just serve you actual craft beer. Or you can get your ring online and come in to scope out all of our designer settings, which leads me to one of my "I'll get to that"s.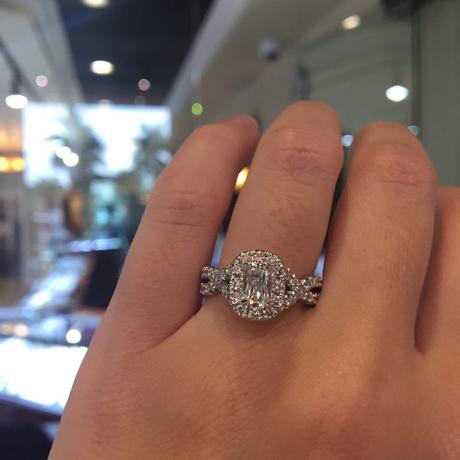 Click here to shop
Our settings are super attractive. Aesthetically and physically – like they are what brings our couples from miles around to come ogle all the sparkles. So often, a groom comes in with a setting (or designer) already firmly picked out. From there it's a matter of finding the right diamond to complete the ring. Which works out fine for him because we have a huge selection of loose diamonds too. But if you want a designer ring (and odds are your girl will be very specific if she has her heart set on a Verragio or Tacori ring, for example,) you should shop for the setting first. That way we can match you with the perfect diamond for the ring and your budget – designer settings come with a premium price, so we want to make sure we have plenty of room in the finances for a center stone worthy of your choice.
Which brings me to the next aside: Designer settings are just one setting category. You can also shop estate/antique/vintage, custom, semi-custom, or ready-to-wear. And all of those options come with their own time frames. So without further ado (I know, there was a lot of ado) Here's how long it takes for each one:
Designer engagement ring: 2-4 weeks, depending on the individual designer. Then our jeweler just sets your perfect center stone & it's ready for pickup.
Semi-Custom: This is typically a modified version of one of our designer settings, or uses it as a foundation for the ring of your dreams. Plan on a 4-6 week wait, again depending on which designer it is.
Totally custom: To quote myself:
…it really does depend on the speed at which your designer and jeweler work, how responsive you are when your input is needed, and of course how complicated the design is. When you first start discussing your custom job, make sure you get in writing an estimate for turnaround time as well as cost. And while your jeweler will work to make sure it's perfect, just know that if you send it back for tweaking after one, two, three, four attempts, it's going to take longer than they initially estimated. The typical custom job, from consultation to delivery averages about one month.
Estate & Ready-to-Wear: Only as long as it takes you to sign the receipt. It's ready to go home with you that day.
Thinking of proposing soon (engagement season approaches quickly) and looking for the right ring for you? Follow me on Pinterest for plenty of ringspiration, and shoot me an e-mail if you have specific questions!