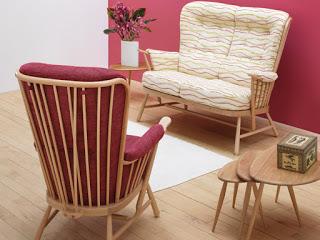 The origin of Ercol furniture dates back to the early years of the 1940s, when the government Board of Trade asked Lucian Ercolani to produce a 100 thousand units of affordable Windsor chairs. In order to make the chairs commercially successful, Lucian made combined usage of elm and the steam-bending technique for completing the order. What happened after that is history. In modern times,
Ercol is regarded as a classic British furniture brand
, and the firm now supplies its furniture pieces all over the world.
In UK, there are many 
furniture making firms providing effective ercol restoration services
. They use a wide variety of methods for completing the repair tasks, out of which replacing old webbing is an important one. Want to know how this job is carried out? Given below is a step-by-step explanation of the procedure:
At first, the old webbing is removed from the frame, which is followed by extraction of the wooden dowels. After that, one end of the new webbing is fed through one back slot from top to bottom. Once that has been done, the end is folded over for forming a loop of about 125mm.
Next, the webbing is fixed together using a plate and staple. The legs of the staple pins are flattened with a vice or hammer. The dowel and the loop are pulled into place and the webbing is then extended to the other back slot for marking the position where it crosses the head of the slot (On daybeds and settees, the webbing is stretched to gauge near the expected end of the loop).
After marking a second point 25mm away from the previous one towards the back, the webbing is folded at that point and stapled about 25mm away from the fold's end (in case of chairs, the second mark is made at a distance of 15mm from the initial point).
A string is threaded through the slot and the loop, after which the loop is pulled through the frame. A dowel is inserted in the loop from beneath the frame.
The string is then withdrawn and tied on all subsequent webs. The webs of the sideways are interwoven for additional support and strength. Once the entire replacement job is complete, the webbing springs back into its place when pulled and released slightly.
Although some furniture makers implement a few minor changes in the overall process, the basic technique remains the same.