Valentine's Day is only a day away now and if you are planning on going out, you have probably been planning your outfit way before you even knew where you were going! We went out last weekend for a birthday in London and I had a hard enough time putting that outfit together. I ended up going for a classic LBD and wanted to share my outfit. If you are thinking of wearing an LBD for Valentines, I have done 2 options to show how I style different types of LBDs as they are so versatile and come in every style.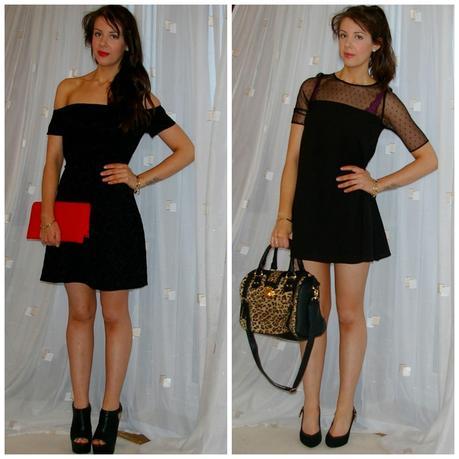 The outfit on the left is what I wore out in London as it is very dressy and I thought it was 'London' appropriate, haha. The dress is absolutely gorgeous, it's really flattering and sexy because of the off the shoulder style but still classy as there is nothing on show. It has a velvet damask print on it that is beautiful, you can really see it in the light. As elegant and classy as it is, I added a little edge with my massive platforms to keep it young and up to date. I recently got this gorgeous orangey red lipstick too and think the orange and black go so well together. The bag is a really good match with the lipstick and a great size. I kept the jewelry minimal with my usual stud earrings and a few bracelets. Needless to say this a real dressed up version of the LBD!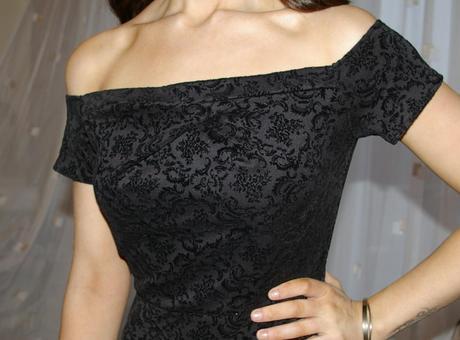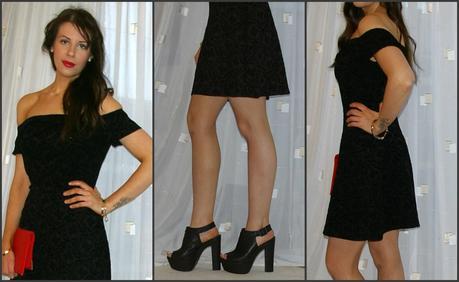 Lipstick; Miners Cosmetics, Dress; Henri Castro, Bag; New Look, Bracelets; Speechless, Primark, Platforms; New Look.
The second way I would style an LBD is more casually. This dress is a more swinging, floaty number and so the style itself is much more casual than the other one. It has the detailing on the top and the arms so it can be dressed up, it isn't too plain. This would still be good for a night out, cocktails, dinner etc except it is a little more comfortable and easier to wear. I styled it with a more casual bag in leopard print to add some pattern and interest but it doesn't shout as loud as the orange. I also toned down the orange lip a bit. I kept the jewelry the same as it is my everyday, easy jewelry and swapped the platforms for my mid court shoes. This dress is something I wouldn't normally wear as it is quite shapeless but I actually really like it. It would be lovely on a warm, summer evening with a pair of strappy sandals or even flip flops when it's too hot to wear anything clingy. It is so versatile I can see myself wearing it a lot.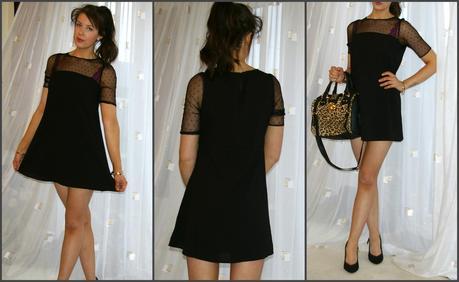 Dress; Henri Castro, Bag; New Look, Bracelets; Speechless, Primark, Heels; New Look.


Which one would you be more likely to wear this Valentines Day?

*I was sent these dresses to feature on my blog. Like me On Facebook - Follow me on Twitter - Follow on Bloglovin'