Day 1 of Amnesia Rockfest 2015 kicked off with a bang. Actually a lot of really loud bangs between the thunder early in the day to the early sets this little sleepy was awoken from its slumber in a hurry.
Our arrival into Montebello was timed, it seems, in unison with everyone else's. Long lines down highway 148 made for a substantial wait to get into the camping area and heavy winds and rain made for high tension. However once the skies cleared spirits were lifted and the anticipation throughout the town was palpable.
Kicking off the Amnesia Rockfest experience on Day 1 was Propagandhi. As I mentioned yesterday, this was my number 1 must see band of the weekend. The anticipation grew ten-fold in the entrance line-up when a discussion with a fellow festival goer took an unexpected turn towards the prospect of a surprise appearance from former Propagandhi Bass player and current front man of The Weakerthans, John K. Samson. This cameo, unfortunately never came to fruition. Nonetheless, they did not disappoint. A true Jekyll and Hyde band whose discography is as divided as you'll find. Propagandhi are a microcosm of this entire festival. Part punk, part thrash metal. This was never more evident than their set list, playing "... And We Thought Nation States Were A Bad Idea?" followed by "Night Letters", two very polarizing tracks. And what is a Propagandhi set without a little political banter. The Manitoba natives got their two cents in on Bill C-24 and shared their thoughts on the Harper Government much to the approval of the crowd.
The night was capped off (or so I thought) by a tribute to Rage Against the Machine. The energy was electric and the similarity was amazing. They certainly set the stage for the remainder of Amnesia Rockfest 2015 and left big shoes for The Dookies (a Green Day Tribute band) to fill Tonight.
The slate for Day 2 was chock full, with barely a break for festival goers to catch their breath.
Mad Caddies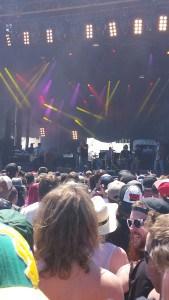 Another lengthy entrance line up and some poor planning on my part meant that I just made it in to see Mad Caddies kick things off shortly after Noon. These guys were awesome. The perfect blend of Punk and Ska to get people up and dancing first thing in the morn.. errr Afternoon. All the way from Southern California, Mad Caddies are veterans of the punk scene and attracted a very healthy crowd for their performance.
Next up: The Dillinger Escape Plan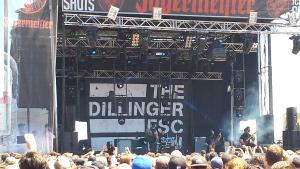 Unfortunately The Dillinger Escape Pan were short a lead singer. While the instrumentals were super tight the lack of vocals really left a lot to be desired.
Following The Dillinger Escape Plan was Goldfinger. Another band of similar ilk as Mad Caddies, Punk with horns. Goldfinger performed a chatty set full of crowd favourites such as 'Counting the Days', 'Here in Your Bedroom' and 'Superman' the song that put them on the map for most following its inclusion in Tony Hawk's Pro Skater 1 video game. The crowd for Goldfinger was the largest so far. But things were about to explode.
The Bouncing Souls. Man, what else needs to be said. The New Brunswick, New Jersey veterans have been mainstays on the Punk scene since their inception in 1988. You always know what you're going to get with a Souls' set, Lots of energy! These guys keep things rolling nicely with little interruptions between tracks. An unreal set covering the breadth of their lengthy discography from 'Here We Go' to 'Lean on Sheena' (Avoid One Thing cover). Wrapping things up with the 1-2 punch of 'True Believers' and 'Gone', The Bouncing Souls always leave the crowd wanting more. This performance was no exception.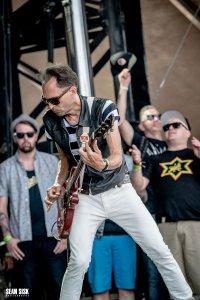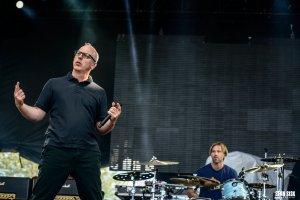 Bad Religion!!! I tweeted this during the show but it deserves to be said again... You know wh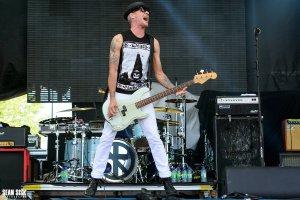 en you've listened to a band for a really long time and then you see them live and they play a bunch of new stuff that no one really wants to hear? That is NOT Bad Religion. The godfathers of Punk came armed with a set-list made up of Title Tracks and then some. You know a band has been at it a long time when they can fill a set with title tracks! Not only that, tracks that everyone loves too. From opening with 'Kyoto Now!' to closing with 'American Jesus' Bad Religion showed no signs of slowing down. I also had the immense pleasure of taking in this set with the biggest Bad Religion fan I know, or probably anyone knows for that matter, which always intensifies a set. If you ever have a chance to see Bad Religion DO IT!!! Regardless of whether you're a fan or not, once they are done and walk off that stage you will be!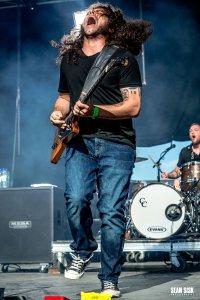 Coheed and Cambria. Another Incredible set. These guys are amazing. I shouldn't say too much about this band because I am extremely biased. One of my favourite bands of all time. Never cease to amaze, not only me, but the many others who made the trip over to the Jaggermeister Stage for the performance. It always blows me away that a band so technical can sound so tight live. A huge nod to their sound engineers as well. Hell of a job!
After Coheed I decided to duck out for a bit and recharge the batteries (unfortunately not for my phone). I came back on to festival grounds for Decendents. Another of my Top 5 Must see Bands. Another great set. Highlighted by 'Bikeage' and 'Suburban Home' It was a phenomenal set and now that I've seen them live, I can die in peace. Well worth skipping Linkin Park
Wrapping up the day were The Dookies. A Green Day cover band playing in its entirety, you guessed it, Dookie. Now, admittedly I have never been a huge fan of Green Day. Although I, like most boys Born between 1980-1985, loved this album. The Dookies did not disappoint. At one point I had turned to a friend and I could have sworn it was Billy Jo up there singing 'Basketcase'. Accompanied on drums by Darrin Pfeiffer of Goldfinger and featuring a cameo by Mike Herrera of MxPx (even long enough to play 'Responsibility") this was a great way to send everyone back to their tents happy for the evening.
The final day of Amnesia Rockfest 2015 featured an incredible set from Less Than Jake. Kicking things off and getting the crowd into it with their own take on the Punk/Ska style. Another one of my Must see bands. They.Killed.It! Less than Jake are legends. Can't say much more about them but they certainly make you want to pack up and leave town, in a good self discovery kinda way. Another highlight of the day was Refused. With their new album 'Freedom' about to drop on June 30th ( www.officialrefused.com ) Refused were full of energy. The stage presence of this group of Swedes is unbelievable. The timing of everything they do is so in tune with the music. The mic seems to pause in mid air when it is hurled upwards. When lead singer Dennis Lyxzén leaps in the air it is timed so perfectly that when he lands the song explodes. Great musicianship combined with spectacular theatrics make this a set I will be thinking about for a long time. Saturday also featured great sets from the likes of Flogging Molly, Gogol Bordello, Rufio and Rancid performing '...And out Come the Wolves' from start to finish. That was sweet. However, Saturday also featured the most disappointing set of the weekend from Catch 22. Now there are some politics at play here. Catch 22 put out an incredible album called Keasby Nights after which the band and lead singer, Tomas Kalnoky, parted ways. Catch 22 continued and Tomas eventually formed Streetlight Manifesto. The Rockfest set from Catch 22 featured but one track from Keasby Nights. All the while I was wishing I was seeing Streetlight Manifesto.
Aside from great music there was plenty to see and do in and around Montebello. The entire town was a festival, not just within the fences. From the array of food trucks and vendors to the tent villages. At all hours there were people around. The atmosphere was electric. Everyone was having a blast. There was a lot of metal there but I went for the Punk Rock and the spirit of the Punk Rock community was very evident all weekend. From people helping each other up in the pit to the guys at 603 Notre Dame handing out hundreds of bottles of water to thirsty fans exiting the grounds and setting up their own DIY stage for passers-by to jam at free will. Considering NOFX weren't there, I can't believe how many times I head Linoleum over the course of the weekend. There was also a void. Even with two Stages being named in his honour the late Tony Sly was missed. I caught myself on several occasions thinking about how well his band No Use For a Name would have fit in with the line up.
Overall Amnesia Rockfest was a huge thrill. Logistically things ran much smoother than years past and the line-up keeps getting bigger and better. I for one can not wait for the line-up for Rockfest 2016 to be released.
Big shout out to Sean Sisk for the great pics. That Coheed shot is incredible.
Keep your eyes on www.soundcheckentertainment.ca and on their twitter machine and @dougsports4 for news and reviews on future shows in the Ottawa and surrounding areas