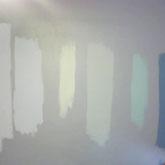 One of the first things we said when we walked through our home for the first time was, "I love the wall colors. We wouldn't even have to paint!" The owners before us painted most of the walls a color called Simply Sage by Behr, and while the finish was a little glossier than we like, there was nothing wrong with the wall color. But, we love the feeling of having something to do, so we decided we would re-paint the walls to make it our own.
Lesson learned: If it ain't broke, don't fix it.
Here's a picture of the color before (Simply Sage by Behr).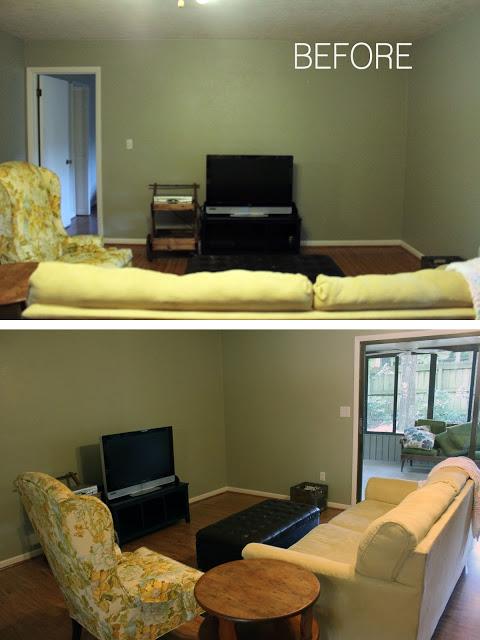 This picture was taken minutes after moving in - when we didn't even know what we were doing with our furniture yet. But you get an idea of what we started with.
Then, for the next 48 hours, I was glued to Pinterest, determined to find the perfect wall color. I didn't get very far, but I was able to decide on getting the following paint samples:
Behr Spanish Moss Behr Rococo Beige Behr Watery Behr Home Decorators Collection Provence Blue Benjamin Moore Gray Owl Benjamin Moore Wickham Gray Benjamin Moore Soft Fern Benjamin Moore Healing Aloe Benjamin Moore Silvery Gray Sherwin Williams Dutch Tile Blue
If I liked one paint color, Pete didn't like it. And vice versa. 
So after feeling defeated and just wanting to commit, I decided to buy my first gallon of paint. How did I finally decide on a wall color? I thought about the trees that lined my street when I was growing up: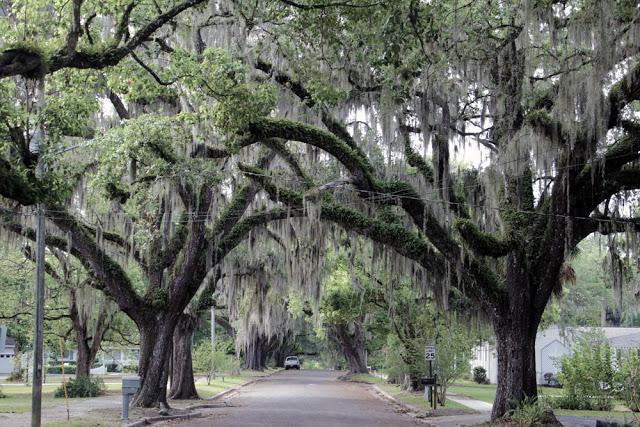 Mistake #1: Let emotions decide the paint color. I bought a gallon of Behr Spanish Moss simply because I love the Spanish Moss on these oak trees. I know. I'm an idiot.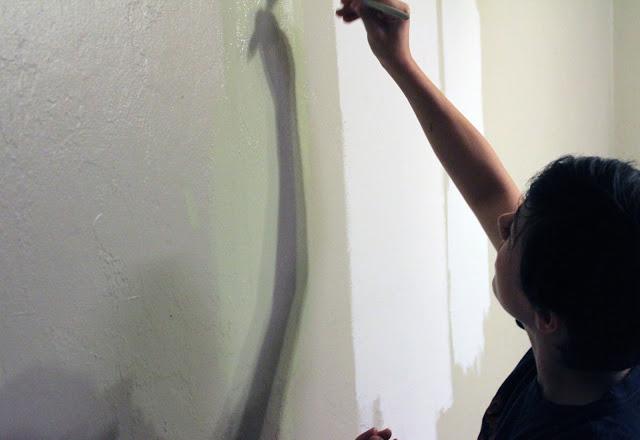 Behr Spanish Moss is a lovely green, but too green for the big space we were painting. And Pete made a good point, "why are we spending money and time on painting our walls green when they're already green?" So I grabbed the hammer, closed the can of paint, and moved on to Mistake #2.
Mistake #2: Listen to someone else. If you happen to invite your mom over for a few nights, and she happens to tell you repeatedly that she found the perfect wall color, and you think that it's all wrong, then just tell her you don't like it. Contrary to popular belief, mom isn't always right (although she is often right). 
So I listened to my mom and bought Behr's Home Decorators Collection Provence Blue (not to be mistaken with Behr Provence - a totally different color. Lesson learned here, too.). I painted the dining room and kitchen in this beautiful blue/green color, but it was all wrong! Way darker than what I wanted and doesn't give me room to play with colors in accessories - which was something I really wanted.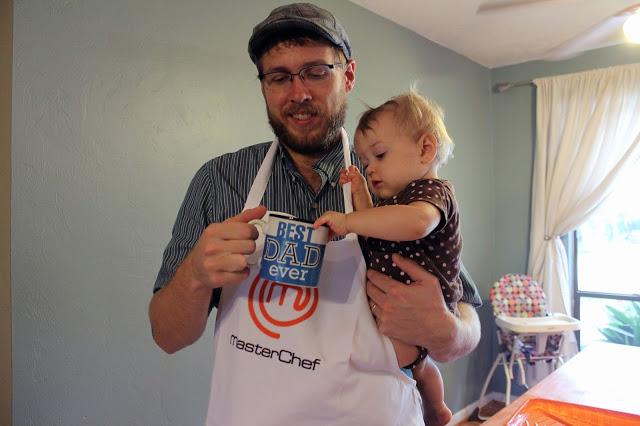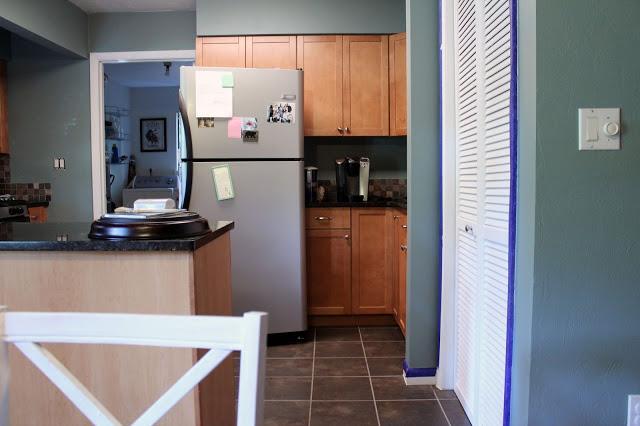 Mom, it really is a beautiful color, but it makes the kitchen look too dark.
Since we have an open-concept layout, it's hard to use different colors in each room so we needed to find a color that would work for our kitchen, dining room, living room, entry, and hallways. Choosing something like the color above makes it hard to buy furniture and accessories for each room because you'll have to follow a very specific color scheme.
Was I done making mistakes yet? Nope. At this point we were so tired. Spending every night painting once Lucy fell asleep in the crib, surviving off the caffeine in our morning coffee.. we couldn't keep up this lifestyle for much longer. Fed up and ready to commit (again), we painted every room in a color that was inspired by this photo I found on Pinterest (on the left):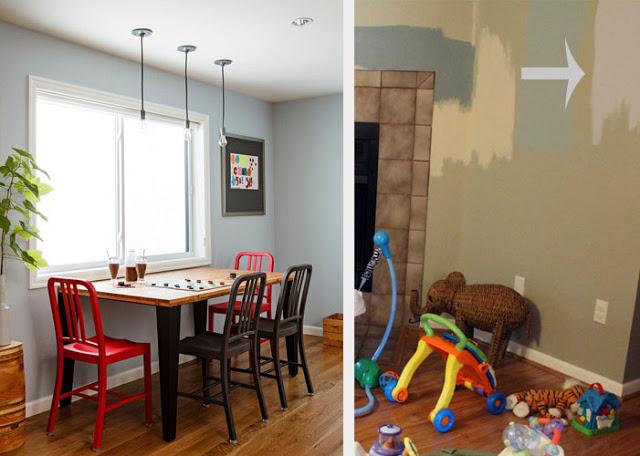 The pinterest photo showed a modern dining room painted in Benjamin Moore Silver Gray.  Isn't it a beautiful room?! I had a sample of this color on my walls (on the right) and I thought it would be a nice, neutral color that would allow us to be creative with the other colors we brought into each room.  So we bought a couple of gallons of Benjamin Moore Silver Gray, and without looking back, we painted all of the walls in our living room, dining room, kitchen, entry, and hallways in Benjamin Moore Silver Gray. 
Mistake #3: Didn't take things slow. With any good relationship, you take the time to get to know one another and see if your values and interests will work well together. I guess I made the mistake of finding, who I thought was the perfect man can of paint, and marrying it to my walls before considering how it would work with our house. Our kitchen and fireplace have very earthy tones - beige, gray, brown...
The Silver Gray is beautiful in the right room, but not in all of the rooms in our house. Here's what it looked like on our walls: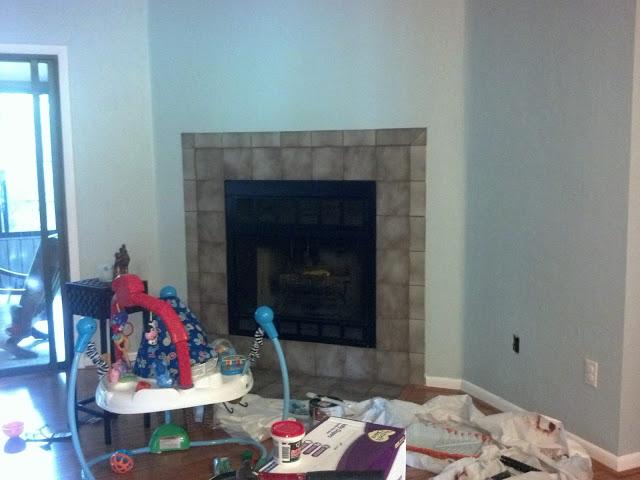 It was okay, but I couldn't spend years looking at it against the earthy tones of the fireplace. 
After exploring some more and focusing on what we really wanted for our space: neutral, simple, clean, earthy... we finally found the perfect wall color.
Benjamin Moore Revere Pewter (cue heavenly noises). 
I found photo after photo and a million blog posts that claimed Benjamin Moore's Revere Pewter was the perfect paint color. I knew I wanted a gray color or beige color, and after seeing a dozen posts calling it the "perfect greige," I knew I found the right wall color. It may look boring to some, and similar to the original wall color in our space, but I couldn't be happier with our final result. 
Meet the perfect wall color: Benjamin Moore Revere Pewter: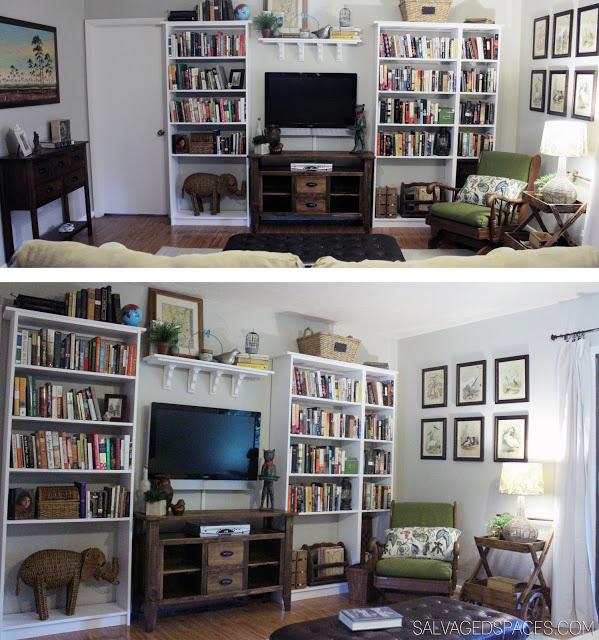 Here are some of the photos/posts that first inspired us to choose this color: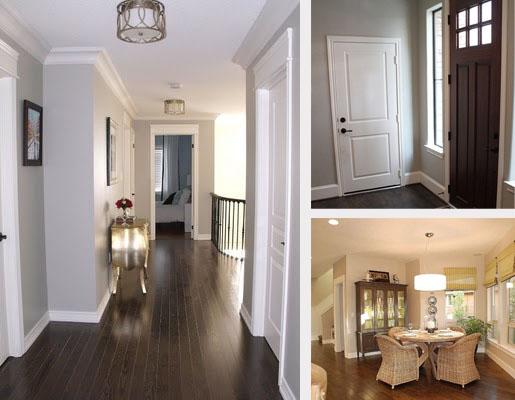 The nice thing about making mistakes with paint is you can always paint over it! But I won't be doing that again for a llloooong time. *fingers crossed*