Hey guys! Happy Monday!
My Summer & Fall Wardrobe.
This is of a fun little post, hopefully series, I'm going to do on how to build a seasonal wardrobe. This post is all about what I bought to build my 20 piece summer/fall wardrobe for less than $200. But hopefully, if you all show a lot of interest I'll do some more posts on tips and tricks so you can do it too.
Why it's awesome to make a seasonal wardrobe?
It's great for travel. I can put these 20 pieces in a bag and have over 50 outfits. That's a full month of living out of a suitcase with less than 5 minutes spent packing.
You always have infinite combinations of outfits with absolutely no thought. Quick for getting ready.
You'll save money from your clothing budget. (hello a vacation to Hawaii)
You'll always feel like a fashionista.
When you're not fashion-gifted it's a built in set of guidelines that will ALWAYS set you up for success.
If you hate shopping, you get it all done in an afternoon.
If you have a small closet, I promise everything will fit.
A Saturday of Shopping
My Mom and I spent all morning and afternoon on Saturday shopping. We had 200 dollars to spend.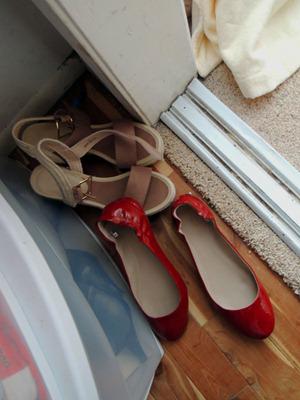 I figure that seems like a lot of money, but if you can spend $200 dollars now and not have to buy anything until November… you're really coming out ahead on the clothing budget.
To keep it frugal (mom and I are the queen and princess of the discount store…) we kept our shopping  to Forever 21, H&M, Target, Marshalls (commonly called TJ Maxx) and a random Sports Authority.
We made a list of things we knew we needed to make an entire (multi-purpose and functional) wardrobe.
The Basics
dressy pants
casual pants
dressy jacket
casual jacket
blouse
casual blouse top
basic tee
basic tee in a pattern
multi purpose dress (dressy, casual, good for layering)
ballet flats
wedges
scarf
sweater
shorts
belt
casual top
razor back tank
Here's what we came home with.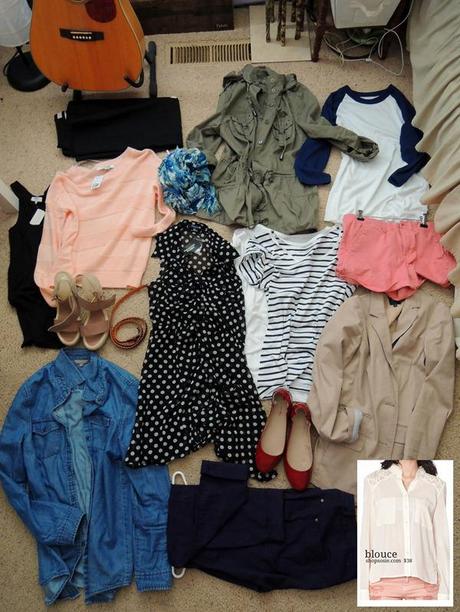 The important thing is to get pieces that all go together. EVERYTHING has to be able to combo with everything else to get the most out of the pieces.
Here are 20 pieces that'll be good through Summer and Most of Fall.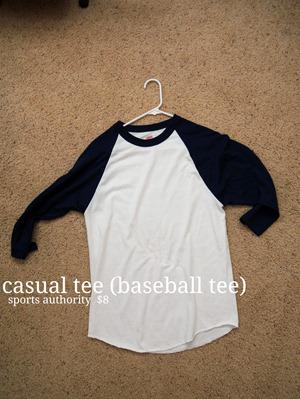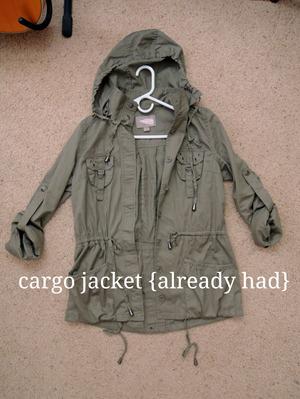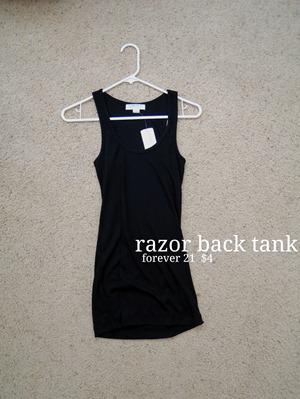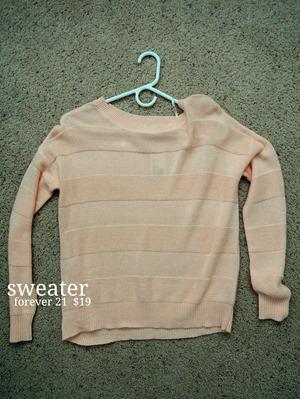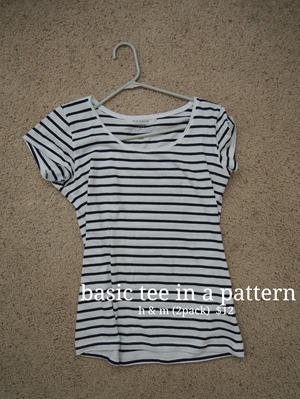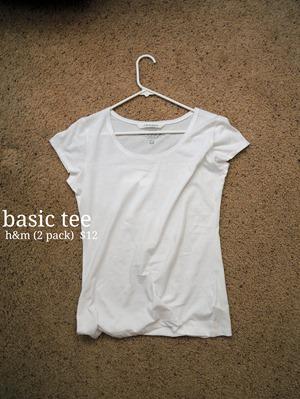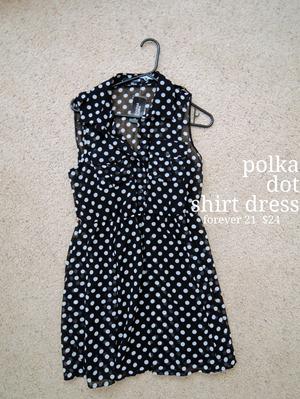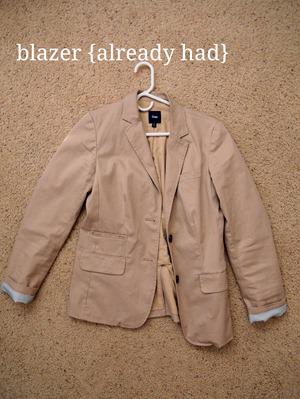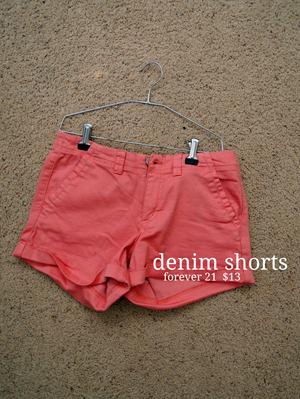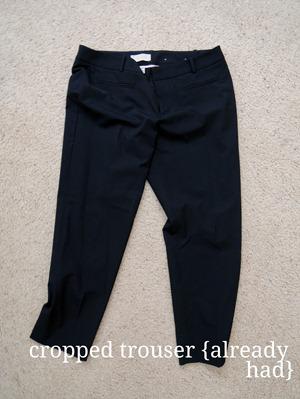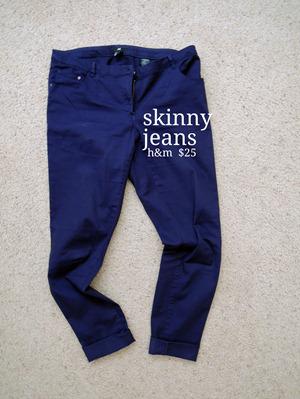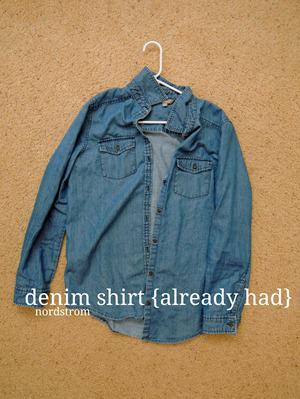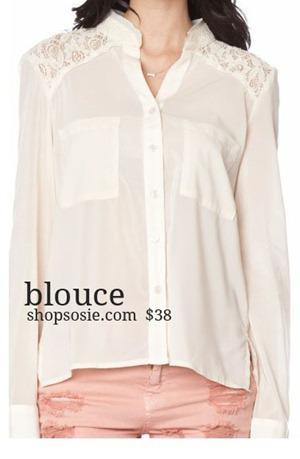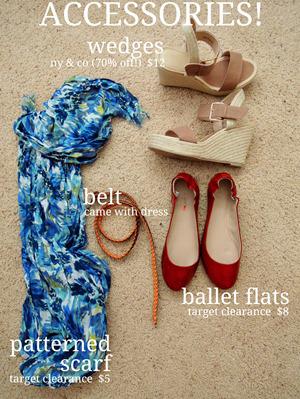 I ordered the blouse online… it's coming. Eeee!
To save some money and to build a wardrobe that I knew I'd wear, I complimented the clothes I already had in my closet. This helped dictate my color choices. I had a few of the basic pieces already in my closet too. Because the things I already wear go really well with different pieces in my summer/fall wardrobe that just makes for more outfit options.
But my 20 piece wardrobe can stand alone. That's 50+ outfits for all occasions without using anything else in my closet.
Look at this magic…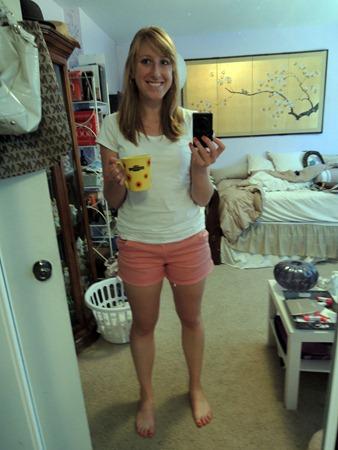 Here are 2 pieces from the wardrobe… the basic white tee and the denim shorts. Look how many combos can be made with these two pieces as a base. Everything is out of the 20 pieces in my new summer/fall wardrobe.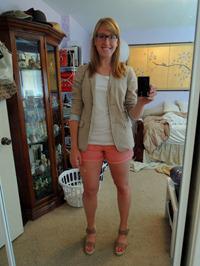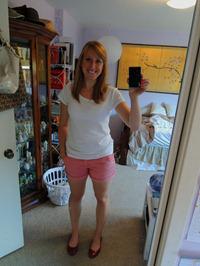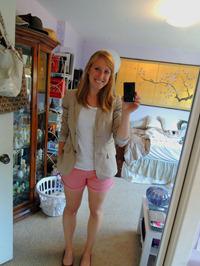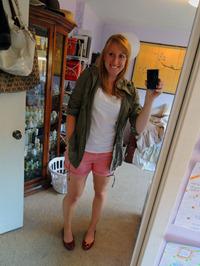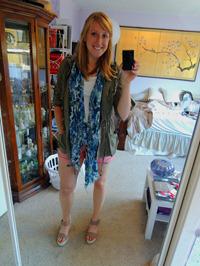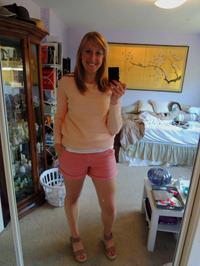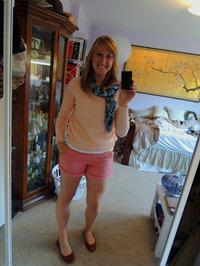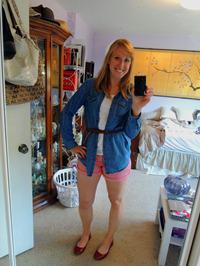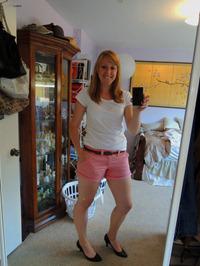 That's 9 different outfits for the office, cocktails, casual weekend, and/or vacation.
There are a few accessories I already had that I've supplemented a few of these looks with. They're very basic and I figure most of you already have them in your closets.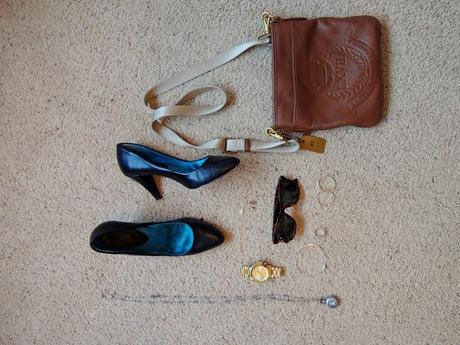 Black (not too high) pumps, brown cross body bag, $5 dollar sunglasses, statement necklace, watch, hoops and stud earrings.
Do you build a wardrobe ever season?
Do you have a clothing budget?
Do you love fashion?
Would you like to know how to build your own wardrobe?