After flipping through a few fashion magazines at the weekend, looking for some inspiration for my summer holiday, one footwear trend really stood out. Mules, it seems, are back. After ballet pumps, wedges, platforms and flatforms, it seems that the fashion world has finally shaken off its obsession with skyscraper heels, with ladies shoes taking on a cooler, functional look.
Heels might be great for adding height, but they don't do your body any favours. Knees and backs suffer, and not just when you take a tumble, as extra pressure is out on knee and ankle joints as soon as you slip into a pair of heels. If you're looking for a more comfortable way to add height, this season's platforms and wedges, like these summery Aztec shoes from New Look (check out their ladies shoes online), give you a real boost, but the thick sole gives you more stability.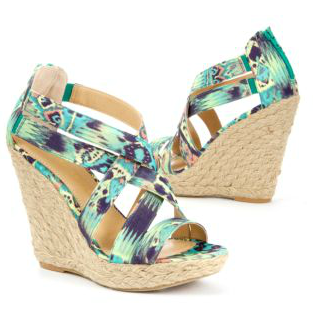 It's not just shoes that are getting a functional makeover from designers either. The return of the maxi dress signalled the beginning of a new, less body conscious, aesthetic, with flowing material and easy comfort as key. Athleticism is big news in the fashion world this summer, with stretch materials being used in new and innovative ways, and track suits getting the designer overhaul. Take a flick through Vogue, and you'll see that even pajamas are inspiring the world's hottest fashion houses.
So why this new focus on comfort and functionality when it comes to ladies shoes and clothing? The fashion world thrives on change, and nothing could be further from the figure-hugging body con dresses of the last decade than the floaty shapes and materials we're seeing for this summer. The slouchy 90s grunge aesthetic has been leading the way in indie fashion circles too. It also plays into the return to more natural materials. Cork, wood, leather and feathers have been gracing the catwalks this season like never before, with organic fabrics lending a far more laid back vibe to clothing than man-made fibres.
I see it as a refreshing new take on what it means to be feminine. High-maintenance just doesn't cut it any more, and, let's face it, effortlessness has always been the pinnacle of cool. Designers are now hip to the fact that we're busy women these days, and teetering heels and itsy bitsy skirts just aren't a practical way to see us through the day.