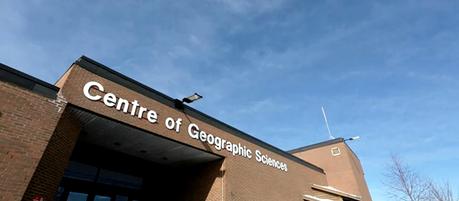 COGS was established by Major Church through funds from the J.B. Hall trust
Many people in the Canadian geospatial community are well aware of COGS, considered to be Canada's largest geomatics focused technical schools located in in Lawrencetown, Nova Scotia, and its world renown reputation. But not many people know about its roots and rich history that stretch back almost 70 years when the school was known as the Nova Scotia Land Survey Institute (NSLSI), a training institution established by Major Church through funds from the J.B. Hall trust, for survey and map production.
J.B. Hall and Major James Church never met, it was the vision of the former finally realized by the persistence of the latter - over decades - which resulted in the County landmark institution, now called The Centre for Geographic Sciences, COGS - MapAnnapolis.ca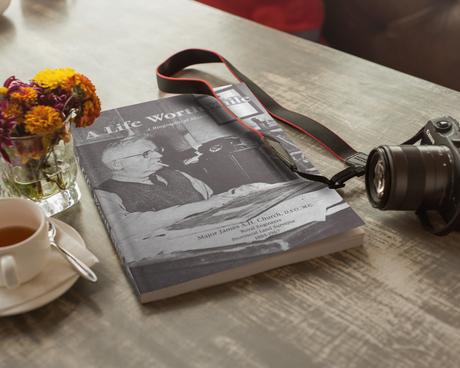 The early history of the school has been well documented in the book titled A Life Worthwhile by James F. Doig (the last principal of NSLSI), and then the progression from the Nova Scotia Land Survey Institute (NSLSI) to the Centre of Geographic Sciences (COGS) has been captured in the The Story of COGS - A Nova Scotian experiment in Technical Education by Bob Maher and Heather Stewart. [Both available online to read for free - find out how further below ].
For those that may not know, Lawrencetown is a small community in the Annapolis Valley of Nova Scotia (with population just over 600), widely known for the apple industry, farming and home to the Centre of Geographic Sciences (COGS).
Students who have gone to COGS recently, may find it hard to believe but, but during the late 1800's Lawrencetown was considered to be a industry hub that included several factories, a tannery, a saddler, lumber yards and a brickyard where bricks were hand molded. Lawrencetown was also the birthplace of JB Hall. Hall who recognized the need for survey related education in rural Canada and whom set aside funds for the establishment of COGS in his will.
State of the art facilities and equipment alone is not enough to produce technical graduates with strong geographical knowledge without having dedicated knowledgeable faculty and support staff.
Nova Scotia Land Survey Institute, NSLSI
In 1945, Major Church was placed in charge of a Provincial Land Surveying Course established under the Canadian Vocational Training Program, which was directed at teaching soldiers various surveying skills during World War II. After the war in 1946, he lobbied politicians to establish a survey school for veterans.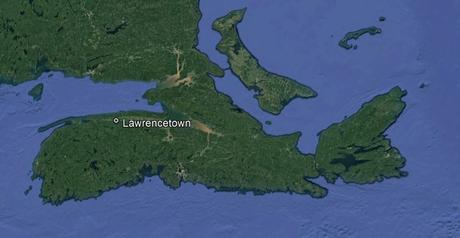 Church had a profound influence on the students whom he trained and the legacy which he provided that was the leading force beyond the world reknown COGS Reputation, recognized not only in Nova Scotia but across Canada and beyond.
He recognized that most students learn more when in hands on situations, often making mistakes in the process, but learning from the combination of errors, sufficient encouragements and real world experience. This was his formula that he used to develop the confidence and courage that students needed to meet the challenges of the geomatics profession.
"Major James A.H. Church had an impact far excedding the norm in his contribution to Canada, the future of its youth and to the surveying profession. A war hero, a professional surveyor and an educator were but three of his most obvious accomplishments.

It was however his effect on the lives of all those who met and worked with him, either as professional associates or as students under training, where he made his greatest and most lasting contribution." John F. Wightman (Principal of COGS from 1986-94)
NSLSI had been founded on the inspiration and energies of two hard working individuals who believed in "learning by doing". They brought a particular vision and philosophy to the task at hand.
When J.B. Hall died in 1928, $25 ,000 from his estate was placed in a Trust Fund to be used to start a Vocational School in Annapolis County. Over time , the fund grew and around 1961, using $80,000 from the Hall legacy, the new Nova Scotia Land Survey Institute (NSLSI) building was built in Lawrencetown. This building was home to the NSLSI until 1975, before moving to the much larger facility on Elliot Road. The building still exists today, and is used as the Annapolis County Planning Services building.
In 1960, new courses specializing in photogrammetry were offered and then courses in cartography was added the next year. Around the same time, GIS technology was developed by Dr. Roger Tomlinson, who had a great interest in seeing that specialized training programs were established that could use this technology, that eventually led him to be a mentor and advocate for COGS.
Click here to open up an interesting Story Map that shows some of the history behind COGS and the lives of its founders, Major James A.H. Church and James B. Hall ...
It was during the 70s and 80s when the School became synonymous with Geomatics training excellence nationally and internationally.
By late 1970's, Instructors began to realize the need for computer programmers in the scientific and engineering fields; in part this awareness stemmed from the increased use of the computer in surveying. Changes like this allowed the NSLSI to become synonymous with excellence in Geomatics both nationally and world wide.
By the mid 80's it became apparent that a new brand was needed to accurately describe the broadened training programs. The acronym COGS was easy to pronounce and, as influenced by Dr. Tomlinson, so the College of Geographic Sciences', the new identity was proclaimed in Provincial Legislation in 1986. The acronym, COGS became recognized internationally and graduates are keenly sought by government agencies and commercial enterprises around the world.
"Work hard, keep up with modern development, give your client his dollar's worth, and enjoy the better things in life." James A. H. Church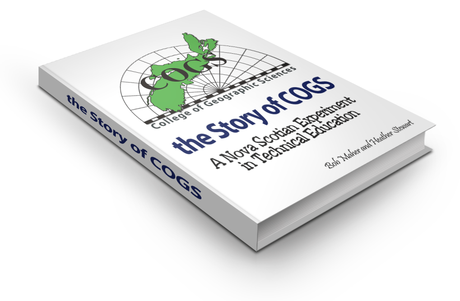 Graduates of COGS programs can be found employed all over the world thanks to the hard working ethics that Church established into the early programs that provided students with hands on real world situations.
Check out this online map by Dave MacLean (GIS instructor at COGS known for creating online maps for astronauts like Chris Hadfield) of Where COGS Grads are Now (if you are a COGS Alumni and not included then add your location) as Dave tries to capture a geographical picture of the spatial extent that COGS influences.
The education programs offered at COGS has evolved and changed drastically over the years, however COGS has maintained an international reputation for the ability to design, develop and deliver high quality technical professionals that continue to populate the geospatial community.
You Can Download the Following COGS History Related Books:
Title: A Life Worthwhile - A Biographical Sketch of Major James A.H. Church
Author: James F. Doig
Source: You can download a free digital copy from the Association of Nova Scotia Land Surveyors website http://www.ansls.ca/files/A%20Life%20Worthwhile.pdf
Title: The Life & Times of James B. Hall
Author: Leone B. Cousins
Source: You can download a free digital copy from the Association of Nova Scotia Land Surveyors website http://mapannapolis.ca/wp-content/uploads/2018/05/Life_and_Times_of_JBHall-2.pdf
Title: The Story of COGS - A Nova Scotian experiment in Technical Education
Author: Bob Maher and Heather Stewart
Source: You can read the full book online at http://www.thestoryofcogs.ca/ or download a digital PDF copy here