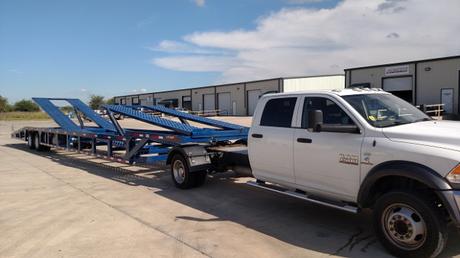 Manufactures highest quality car trailer hauler GN400 and GN450 for hauling up to 4 vehicles. With hydraulic tilt deck on front the transport trailer gives the maximum loading capacity, while decreasing wind drag.
" data-orig-size="642,361" sizes="(max-width: 622px) 100vw, 622px" data-image-title="gn450" data-orig-file="https://infinitytrailersblog.files.wordpress.com/2016/12/gn450.jpg?w=622&h;=350" aperture="aperture" />Are you planning to upgrade your towing truck or hauling trailer or both? Towing equipment may need to be updated for a variety of needs such as pulling more than one car at the same time, towing heavy cargo, performing multiple kinds of tasks, etc. However, prior to finalizing your plans for hiking up your equipment to version 2.0, you must factor in a few things in order to make the best choices. They have been described in the undermentioned points:
Heavy-Duty Tires
Bear in mind that decent quality tires never come cheap, and you can be turned off by the designs of the best ones in the market. However, if you want more power and control over your trailering equipment, then you must ditch the aesthetics. Specially designed tires can do more than just propping the cargo suitably. You will also be able to enjoy the perks of better grip and predictable steering. But while installing tires, make sure that they are of appropriate load ratings, in order to enhance fuel performance and reduce the risks of blowouts.
Ratcheting Straps
Too prevent cargo from falling off your trailer during journeys, purchase some good quality ratcheting straps. Whether you own a 4 car trailer or a 5 car one, straps can provide added safety to your cargo and also keep them from moving around on the trailer bed. Besides that, they would even maintain a steady weight and thus, allow optimal handling.
Work Wheels
The wheels oftrailers and towing trucks are often ignored even by professional hauliers, despite the fact that they are an important area to address when it comes to trailering upgrades. It is vital to check whether the wheels of your hauling equipment are appropriate or not. Invest in some that are rated for ideally propping the load of your cargo.
Top Quality Hitches
Contemporary diesel trucks usually come with under-bumper or traditional hitches belonging to class 4 or 5. Although they are excellent for hauling loads weighing around 10,000 lbs, they don't do very well when that limit is surpassed. The main reason behind this is that engineers consider everything while calculating tow ratings – cooling, braking, handling, steering, gear strengths, bearing capacities and real-world testing. If you have to go beyond your hitch's tow rating, then opt for an after-market hitch – it would come with various useful features.
Thus, that's how you can upgrade the capacity of your car hauling trailer and towing truck.