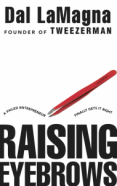 By Scott James, Fair Trade Sports
This month I spent time with serial entrepreneur Dal LaMagna to ask him about his new book, "Raising Eyebrows, A Failed Entrepreneur Finally Gets It Right." He's been called an irrepressible capitalist (among other things) which made for an interesting conversation.
Scott: In your book you suggest that you were more successful with your company than you would have been had you not followed principles of Corporate Social Responsibility.  Talk to me more about that.
Dal:  Building Tweezerman as a company that practices what I call "responsible capitalism" resulted in a team of competent, happy employees, loyal customers, satisfied vendors, and a community that supported the company as much as the company supported the community.
Scott: I see the positive upward cycle of that. How did that contribute to your success?
Dal: My definition of success is the quality of life the company provides for me and for my employees.  As the company grew my empowered employees – a critical element of CSR – took over, and my work became more strategic and less mundane. I didn't have to sell, collect money, go to trade shows or worry about much except the strategic trajectory of the company. Had it been up to me alone I would never have grown Tweezerman to a 65,000-square-foot facility with 250 employees. When you run a business that takes care of its employees, its vendors, its customers, and its community…well, all these stakeholders then take care of you.
Scott: What were the salient CSR practices that you felt made the difference?
Dal:  Employees sharing in the profits made a significant difference; after a trial period every one of them became shareholders in the company. We promoted from within and hired from the community. When things went wrong we concentrated on solving the problem rather than pinning the blame. We provided health and job security. It took the agreement of at least two of the top three managers to fire someone which we did rarely.
Scott: And how about outside of the company?
Dal: We respected our vendor's right to make a living and did not exploit them. For example when we were late paying bills we added interest to the payment (equal to what we would have paid our bank).  We gave back 5% of our profits to the communities we served. We had a lifetime guarantee for all our products and didn't even charge shipping when we repaired or replaced them. Over the years we found that people cared more and more about the kind of company they were doing business with. Loyal customers, vendors, and workers made a big difference during those times over the 25 years especially when things got tough.
Scott: I've heard you say several times that you sold your company for much more money because it practiced responsible capitalism. Why?
Dal: The company that acquired Tweezerman paid more because our brand had a great reputation not only for quality but also for practicing CSR. We developed employees who were empowered people from the President down to the worker who cleaned the bathrooms.  We delivered a turnkey operation. The company that acquired us, J.A. Henckels, a division of Zwilling, only needed to send in two people, a CEO to replace me and a CFO to work with our existing CFO to match up reporting to the home office. Initially eight bidders were involved and through mutual eliminations we ended with the one whose policies of CSR most closely matched our own. We sold the company for about 14 times earnings and 1.5 times sales.
Scott: Would what you've done – establishing Tweezerman as a CSR company – work for any company?
Dal: Every company is different, but I believe that most companies can benefit from some CSR practices. Part of being a CSR company involves paying a living wage. I would think that a company that sells a commodity would have difficulty in paying this. I had the capability to pay my employees well, provide benefits, share profits, make charitable contributions, and more because I created a brand, which commanded a solid profit margin.
Scott: What about the international aspects of your company?
Dal: How your company treats the supply chain is a crucial aspect of CSR. We paid a living wage in India (of course much lower than what a living wage is in the U.S.) and operated our factory responsibly. We paid our China supplier more money so they could improve working conditions for their employees. If your business model is to exploit foreign labor you are not a CSR company. The marketplace is constantly punishing companies that have a product that can be easily replicated. If you are the kind of person who wants to get more out of your company than money, and strives to build a company that practices responsible capitalism, then avoid situations such as unreasonably tight profit margins that force you to exploit everyone and everything to make your company work.

Scott James is an entrepreneur, instructor, advisor, and investor in the world of sustainability. He is the founder of Fair Trade Sports, offering the world's first line of sports balls for soccer, football, basketball (and more) that are Eco-Certified and Fair Trade Certified. He was named by BusinessWeek as one of "America's Most Promising Social Entrepreneurs" in 2009 and profiled by Forbes Magazine as a leading eco-entrepreneur in 2010.
This post originally appeared in Forbes.