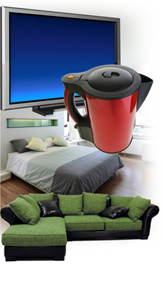 House hold shipping through AbleCargo is easy, reliable, and always guaranteed to save time and money. Whether you're shipping a tv, couch, or refrigerator AbleCargo will help ship your items safely and on time.
We also offer two loading options that will accommodate to all your shipping needs big or small.
Our first option is the Less Less Than Container Load (LCL) option which simply means your shipment is not large enough to fill an ocean container, therefore your freight will move in a shipping container consolidated with other freight
Our second option is the Full Container Loads (FCL) option which can be arranged from your facility or our warehouse to the overseas port with only your goods in a shipping container.
Household shipments include:

Antiques
Pianos
Frames
Tables
Stands
Matresses
Dressers
Shelves
Desk
TVs
Home Entertainment
Game Room
Storage
Office
Bar