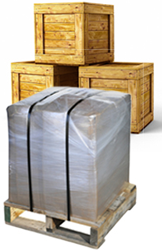 Shippings through AbleCargo is easy, reliable, and always guaranteed to save you time and money. Whether you're shipping for your home, lot, or office AbleCargo will help ship your items safely and on time.
Customers can deliver the goods to our facility by appointment, or pick-up can also be arranged.
If delivering by appointment consider renting a van or truck if your shipment is large.
Crated goods qualify for an "all risk" policy but palletized goods only qualify for a "total loss" policy. Marine Insurance is also an available.
Product are mainly shipped by pallets or crates depending on the product and packaging required.
Rates by ocean are given by the cubic meter and weight combined. Please give the total L x W x H plus weight for accurate pricing of a move.
For full container FAQs please click here Container Load FAQ'S
Less than Container Load Shipments (LCL) can be arranged from our facility to the overseas port.
Goods to be pre-packed before delivery to our facility:
All goods should be wrapped and packed into strong cardboard moving boxes. Larger items such as dressers, tables, chairs, should be blanket wrapped; bed mattress's to be wrapped with thick plastic.
We arrange the goods in a uniform manner to ascertain the total L x W x H and weight which depicts the eventual price based on a combination of the total Cubic Meters and the total Weight.
A Cubic Meter is equivalent to 39″L x 39″W x 39″H inches, Ocean Freight shipments moving LCL are charged on a prorated basis therefore if you have 3.3 Cubic Meters you pay for 3.3CBM not 4CBM.
Pallets vs. Crates?
No doubt a crate is the ultimate protection for your personal effects but it is an extra cost. A pallet is cheaper than a crate but boxes simply plastic wrapped on a pallet has not the same protection as a crate, you have to judge for yourself if you have fragile, breakable items, also consider value of your goods.
Is the cost of the crate is worth having or not ? A student shipping books and cloths can save money by opting for a "pallet and plastic wrapping" of the goods. If the student has a computer then a crate is the sensible way to go.

PALLETS
CRATES
Shoes
Coats
Canisters
Books
Clothing
Comforters
Pillow
Towels
Golf Clubs
TVs
Computers
Lamps
Glassware
Crystals
Antiques
Fine China
Dishes
Telescopes