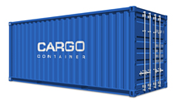 Shippings through AbleCargo is easy, reliable, and always guaranteed to save you time and money. Whether you're shipping for your home, lot, or office AbleCargo will help ship your items safely and on time.
Personal Effects by Ocean in Full 40ft or 20 ft Shipping Full Container Loads
Need We ship all commodities. Please contact us for pricing, or for information on shipping your products. "Import or Export"
Full Container Load Shipments (FCL) can be arranged from your facility or our warehouse to the overseas port.
We offer 4 types of service A, B, C & D
A. "Live Load"
Delivery to your door, loading whilst driver waits, 2 hours free driver waiting time, an hourly charge there after
B. "Drop and Pick"
Delivery to your door, the container is parked and left for 24 or 48 hours
C. "Delivery of goods to our facility we load"
We receive your goods at our warehouse (delivery to us by you or by movers), we load the container at our facility. (This type of move recommended if an auto is to be shipped)
D. "Full Service Move"
We park a container to your door, a local moving company loads the container. (Note packing and wrapping of goods prior to transferring the goods into container is a separate charge and not included in the container shipping or packing of the container price)
If you do not have access to a dock or warehouse please note the container sits on a chassis 4ft high off the ground
When loading a container on a public road please check with local Police and your City if a permit is required ? Advise all neighbors of the dates your container will be parked
Also check for accessibility, the truck is 14ft high and a 40ft container become 50ft plus, therefore no narrow roads, low trees and adequate turning space for the driver is a requirement.
For full container FAQs please click here Full Container Load FAQ'S
The two most common ocean or sea container dimensions are:
40ft L x 8ft W x 8ft H
Capacity: 67 Cubic meters
2377 cubic foot
Max Cargo Weight 44,000lbs
20ft L x 8ft W x 8ft H
Capacity: 31 Cubic meters
1159 cubic foot
Max Cargo Weight 22,000lbs