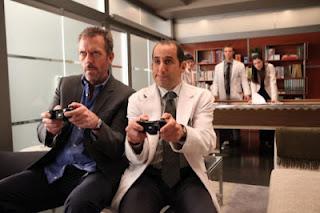 Original Air Date: 2 April 2012
Storyline: 
An Army veteran charged with treason is brought to the hospital for treatment, but refuses to cooperate unless the military give him and his brother information about their father. Meanwhile, Adams asks Wilson and her teammates for help when she suspects that House is concealing an illness.
Trivia: 
Producer's assistant Lindsay Zappala has a brief role as Gloria.
Best Quote:


Wilson

: I've been avoiding you because you're an ass.




House

: I've been an ass my whole life. I can't get rid of you.




Wilson

: You can get rid me of now. Just turn and limp away.




House

: Huh. Your whiny righteousness has the stench of sincerity.

Review:

[H]ouse 8x14: Love Is Blind

Back to Season 8