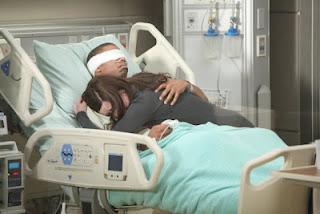 Original Air Date: 27 February 2012
Storyline: 
House and the team battle to save a successful, independent blind man who is struck down by a mysterious illness, just prior to him asking for his girlfriend's hand in marriage. Meanwhile, House's mother unexpectedly arrives at Princeton Plainsboro to inform him of her new beau.
Trivia: 
The episode was originally scheduled to air on 2/27/12 but was preempted on short notice for the NASCAR Daytona 500, which was delayed a day due to rain.
Best Quote:

House

: How long are you going to wait until you tell me?




Wilson

: I thought we already had the Santa Claus talk.

Review:[H]ouse 8x13: Man of the House Back to Season 8