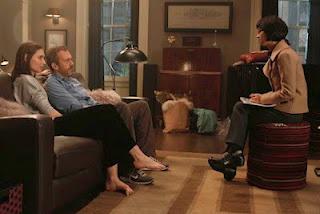 Original Air Date: 20 February 2012
Storyline: 
A marriage counselor collapses during a speaking engagement, but when he is put under close evaluation, the team notice changes in his behavior that conflict with his motivational message on the roles of men and women. Meanwhile, House and his Ukrainian "wife" Dominika make a deal to convince Immigration that they are a happily married couple. Also, House decides to name a team leader.
Trivia: 
Character Nate Weinmann is named after the series art director Natalie Weinmann.
Best Quote:

House

: I'm guessing that your testosterone level is just below "Bieber."