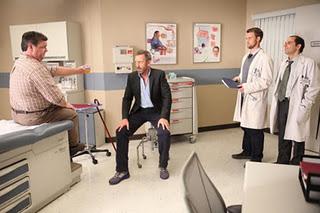 Original Air Date: 14 November 2011
Storyline: A teenage boy attempting to follow in his late father's footsteps as an entertainer is admitted to Princeton Plainsboro with partial paralysis. As the team searches for a bone marrow match, they uncover a disturbing family secret. Meanwhile, House looks for creative ways to remove his ankle monitor so that he can attend a boxing match in Atlantic City, and he treats a patient who is convinced he is suffering from diabetes. Also, Taub faces a tough decision when his ex-wife Rachel tells him that she wants to move across the country with their infant daughter.
Best Quote:

Chase

: Even the best-intentioned parents end up damaging their kids.




Adams

: You're a smart, successful doctor. How much damage could you have?




Chase

: Know how I got interested in medicine? When my mother drank, she couldn't handle me, so she locked me in my father's study. Only so many hours you can cry and bang on the door before you give up, find something to read. We all have family dysfunction. That's why we're successful. To fill that hole.