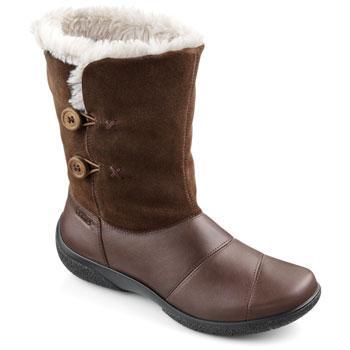 I was sent a pair of Hotter  Heaven winter boots just in time for me landing back in the UK from a 3 week holiday in Australia. I soon went from a bikini into triple layers once I was back home, gosh the weather is freezing temperatures and with that comes the dreaded slippery paths.
I have to admit that my boots have been a god send already as the grip on the bottom is amazing and I mean amazing.
The fit is perfect, very comfortable and they are made from real genuine good quality.
I choose brown as I always wear black boots and I love them dearly, they fit as snug as slippers and the fur lining keeps your toes all warm and cosy.
You are literately bouncing on millions of little air bubbles. Cosy softness with an easy-care leather foot area, Heaven boots are perfect to pull on for market days or relaxed strolls. The stipple tread soles give a sure- footed feel and there's plenty of room to wiggle toes.
So if you need a new pair of boots to see you through the winter I highly recommend you check out the Hotter collection.