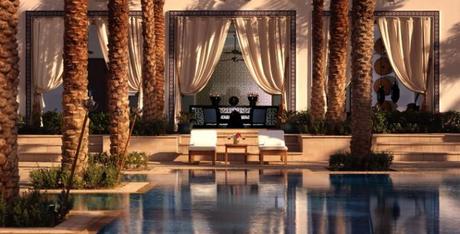 0 Flares
Twitter
0
">
Facebook
0
Google+
0
">
Pin It Share
0
">
StumbleUpon
0
">
Reddit
0
">
0 Flares
×
Hotel Review: Park Hyatt Dubai
There are some hotels that just stand out and make you forget all about the stress of work, school and bills. The Park Hyatt Dubai takes that to a whole new level. Dubai is an amazing city with so much to offer including endless entertainment and once in a lifetime experiences. Dubai has set a new standard of what luxury means and the Park Hyatt Dubai is no exception.
Upon our arrival we entered what is probably the most beautiful hotel lobby I have ever seen. The Mediterranean architecture takes your breath away in this large, open, peaceful lobby. It was calm and there were no other guests, which made us feel like they were waiting just for us. The entire feel of the Park Hyatt Dubai is to create a harmonious feeling to give you the best holiday possible and to give off the feeling of exceedingly magical privacy around every corner.
While we were told the hotel was at 100% capacity during our stay, we rarely saw another guest anywhere in the hotel, it was shockingly peaceful and quiet. The pool always had loads of free chairs, private areas and was silent, amazing considering how close we were to the middle of the city. The winding walkways, rooms, plant life and subtle smells of incense and spices truly whisk you off your feet and take away the world outside.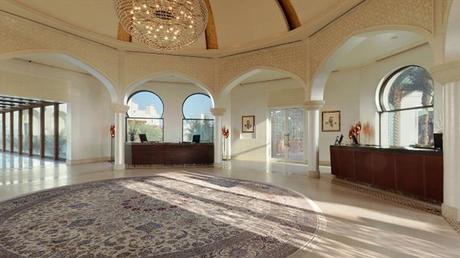 The best feature of the Park Hyatt Dubai is the pool. Lets be honest, Dubai is a hot city so what better way to spend the day than relaxing pool slide in style? Jeff and I were happy to spend much of our time here at the pool soaking in the sunlight and enjoying the heat. The pool here was wonderful. It felt as though we were on a private island in the middle of the Ocean, for a while I even forgot we were in Dubai.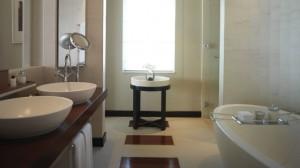 Our room was nothing but beautiful. I loved the layout of the room because the bathroom overlooked the bedroom with a big open window that can see directly out of the balcony, making the room feel large and open. The bathroom also had a great tub complete with bath salts and bubbles, making any girl feel like a queen plus a shower and two large his and her sinks. Jeff and I enjoyed curling up in our big comfy robes and relaxing.
The overall appeal of this hotel is unlike anything I have experienced on my travels. The entire property was beautifully designed and the restaurants were to die for! Jeff and I highly recommend Cafe Arabesque and The Thai Kitchen. Cafe Arabesque has amazing Middle Eastern cuisine and The Thai Kitchen has some delicious Thai food, and trust us, we know Thai food!
    Check out our full review of The Thai Kitchen! 

Overall, the Park Hyatt Dubai was one of my favorite hotels in Dubai. It was so clean and comfortable and made me feel like I was a celebrity on holiday and feel like I had the resort to myself. I can't wait to come back and try out the Amara Spa, which was beautiful, private and just looked amazing!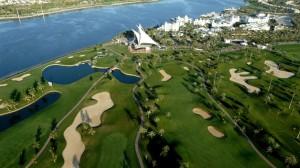 If you are looking for some actives to partake in during your stay, look no further. The Park Hyatt has so much to offer!  Like I mentioned the Amara Spa is stunning and definitely won't disappoint you. And for those guys out there, they have a beautiful
18-hole golf course
at your disposal! They also have a salon, fitness center and you can even take cooking classes with the
Master Classes at the Park
. Dubai is full of some of the best chefs in the world, so why not learn from the masters?
One extra bonus at the Park Hyatt Dubai is that the wifi is free and you don't even need a password. Nowadays that is always a perk. Your holiday here will exceed all your expectations!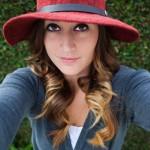 Marina Dominguez is the co-founder of Latitude 34 Travel Blog as well as a photographer and documentary film maker.
As a maturing women, Marina has dedicated her life to travel and new experiences. After working a 9-5 cubical lifestyle, Marina sold everything she owned, left her job and begun a new life with her boyfriend and travel companion, Jeff Johns. Together they relocated to Phuket, Thailand and founded Latitude 34 in which they seek to share their alternative lifestyle with the world. 
Marina is a Visual Journalism graduate of Brooks Institute of Photography where she studied photography, videography and ultimately caught the travel bug. Through creating several international documentaries, Marina realized there was more to the world than work and wanted something more.