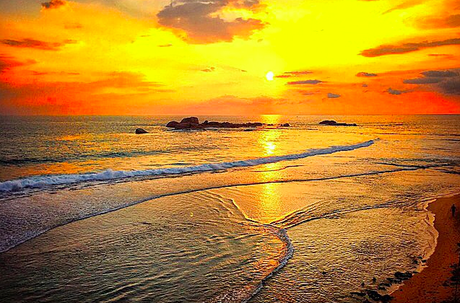 1 Flares
Twitter
1
">
Facebook
0
Google+
0
">
Pin It Share
0
">
StumbleUpon
0
"> <su:badge layout="1" location="http://www.latitudethirtyfour.com/hotel-review-chaaya-tranz-hikkaduwa/"></su:badge> <script type="text/javascript"> (function() { var li = document.createElement("script"); li.type = "text/javascript"; li.async = true; li.src = ("https:" == document.location.protocol ? "https:" : "http:") + "//platform.stumbleupon.com/1/widgets.js"; var s = document.getElementsByTagName("script")[0]; s.parentNode.insertBefore(li, s); })(); </script>'>
Reddit
0
">
1 Flares
×
Hotel Review: Chaaya Tranz Hikkaduwa
Sri Lanka was a total surprise to us. Not only because of the endless beauty, kind people, amazing scenery and delicious food – but because so many people still believe there is some sort of unrest in the country. Nothing could be further from the truth and no one should ever miss out on a trip to this amazing country, whether for a weekend or a month. Having only a short weekend off from work in busy Dubai, the relaxed island nation of Sri Lanka is a short 4 hour flight away, the perfect weekend getaway – and the Chaaya Tranz hotel in Hikkaduwa couldn't have been a better place to pick.
Outstretched across the sandy beaches in Hikkaduwa, a quiet little beach town just 2 hours from Colombo, the term "island life" take a whole new meaning. Time slows down, the smiles are more obvious and with the smell of the ocean in the air you instantly start to feel more relaxed.
"You know a hotel has done something right when you can relax in their rooms and still feel as comfortable as if you were home."
From the second you walk into the open air lobby, you are greeted by the supremely warm staff, a delicious welcome drink and you want nothing more than to melt into one of their beach chairs and smile as you nod off to sleep in the sun.

Each of the rooms have fantastic views over the entire grounds, littered with swimming pools, palm trees, lounge chairs and sandy beaches. Whether you want to lounge in the shade, enjoy a cocktail in the pool, feed giant sea turtles just steps from your room or enjoy delicious food with an amazing view, it is all available within a stones throw.
The rooms are simply perfect. Comfortable, bright and practical they leave you wanting nothing. You know a hotel has done something right when you can relax in their rooms and still feel as comfortable as if you were home.
The wonderful thing about a hotel like the Chaaya Tranz is that with views so amazing, you simply don't want to do anything but get out and explore – exactly what every traveler dreams of.

One of the best parts of the stay was easily the food. Hotels like this sometimes relax when it comes to food as their stunning setting does so much of the work for them, but not Cinnamon Hotels, whom go well out of their way to not only offer some of the most delicious local offerings, but also give you a taste of home if you need it. (but trust us, go for the local food, it is to die for.)
The breakfast buffet is stunning and the setting could not be more welcoming – you'll never want to leave.
While you might be tempted to spend the entire stay sitting in the beautiful pool or on the golden sands, don't miss out on all the hotel offers, including an amazing spa that will relax you like you never thought possible. Imagine having just finished a full body massage and then slipping into a comfortable lounge chair on your balcony as you fall asleep to the sounds of the ocean – amazing huh?

Like with all hotel stays it really is the little things that make all the difference. Cheap plastic shampoo bottles being replaced with ceramic containers, staff that go out of their way to make you feel well attended to but not overbearing, waiters who keep your drink filled without hovering around and the most important part of a hotel room – a bed which you can absolutely melt into, making sure they take the extra steps to give you the most comfortable sleep possible.
Staying for a weekend is only torture because it goes by so quick, but regardless how long you stay, you will never forget your stay in this amazing little gem on the Sri Lankan coast. Hikkaduwa is a perfect little beach town which, thankfully, is a perfect balance between authentic Sri Lankan life and all the comforts tourists desire. Take a short walk around the town and you can find amazing hand crafted items to take home and take a certain back street and you'll find beautiful small Bhuddist temple perched on a nearby hill.
Whether flying from close by Dubai or from the other side of the world Sri Lanka needs to be on every travelers list, and if you make it to this perfect little country we'll gladly point you to Hikkaduwa and one of the best seaside hotels we have ever stayed at.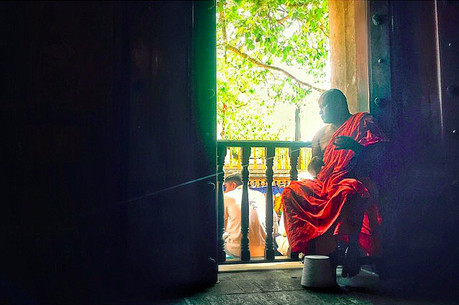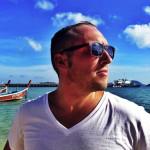 Jeff Johns is the co-founder and editor of
Latitude 34 Travel Blog
. Through 65 countries on 6 continents he has accumulated a seemingly endless stream of odd information, interesting stories and helpful tips and tricks to better travel. Jeff's goal is to visit all 204 countries on Earth before he is too senile to remember them all. A graduate of the Visual Journalism program at the Brooks Institute, his true passions lay in honest visual storytelling, documentary filmmaking, Thai food and a good laugh. Together with Marina, they run
Latitude 34 Travel Blog
as a source of helpful information for those who love to travel or those who simply dream of it. If you have a comment or suggestion, send them an email at
[email protected]
and they'll respond super fast!