At the time of writing, 10% of the world top 100 are American, but you would think US tennis were in crisis judging by the assessment of journalists. The problem does not lie in the depth but the at the pinnacle of the game.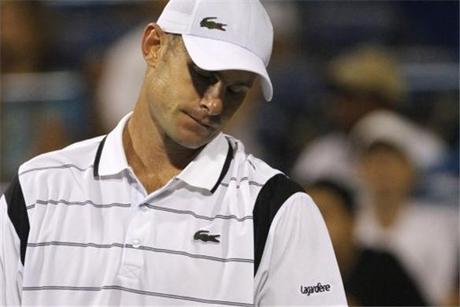 Roddick still shoulders the burden
The last US man to win a Grand Slam was Andy Roddick in 2003. Roddick and Mardy Fish still lead the pack flirting with the top 10, while Sam Querry and John Isner can't seem to make the leap into the big time.
Some of the wily veterans like James Blake, Michael Russell and a resurgent Alex Bogomolov Jr are still fighting to keep their careers vital into their 30s, ranking just in the top 100 as are some of the promising young players like Ryan(s) Harrison and Sweeting. Several others tease us with their talent and a few big wins (Donald Young, Jack Sock), but as of yet have not demonstrated the temperament to become stars.
The game is a global one now with some of the old super power's light diminishing like Sweden and Australia. The US is not in the hole as much as those nations, but there is a threat of mediocrity lurking. Hard courts remain the best surface for the Americans, but so much of the season is spent on clay courts, which players like Agassi and Courier at least could embrace. The college system is stronger than a lot of countries but the rate at which youngsters take up the game must be taking a hit.
Watching ESPN's coverage of tennis can be torture, with air time devoted to either Williams sister or Sharapova for ratings. Young kids need to see the top players on TV to get out on court and get excited on a national level. Britain has a similar problem with soccer soaking up most young athletic talent and accentuated by a class system that still sees Tennis as 2 weeks of fun in June, sipping on Pimms and devouring strawberries. It's just not as accessible as it should be.