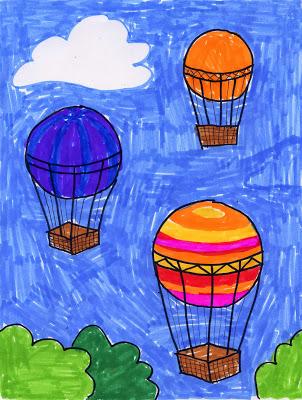 One large, medium and small circle can turn into a fun drawing about hot air balloons. I love showing students what old fashioned balloons looked like, for inspiration.
1. I gave my students 3 templates to trace for the circles. They drew baskets below, and rope lines to attach them. Basket can be drawn with dimension, or just flat, depending on ability.
2. Trace all the lines with black marker. Using a thin one for details will add interest.
3. Color all in with markers or crayon. I used my current favorite, the Stabilo brand that has lots of color choices and a tip that I can really appreciate.