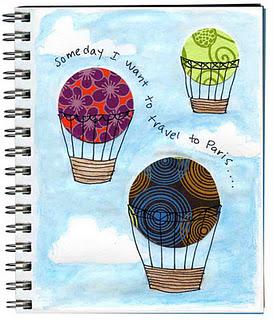 Here's an idea for using the beautiful pattern paper in the Strathmore® Art Journal Kits. Hot air balloons can tie in nicely with future dreams of travel.1. Students cut 3 circles from the pattern paper, ranging in size from 1.5" to 2.5". The circles are glued to a white page in the art journal kit.2. With a ultra-fine tip marker, students draw a basket under each balloon, and connect them to a ring around the balloon.3. A travel wish is written around the balloons in permanent marker.
4. Using watercolor pencils, clouds are drawn, colored around and painted with water.
5. Don't forget to enter my Art Journal Kit giveaway!