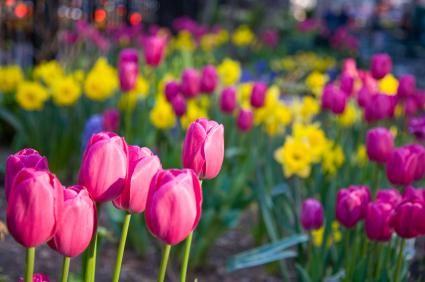 The passion to garden can strike someone at any time in life and for many reasons. Regardless of what has drawn you to the hobby, there are numerous ways for you to express your green thumb. Whether you plant flowers, herbs, vegetables or fruit bushes, let your imagination and spirit soar while you tend to the soil and seeds.
Gardening with children
It's never too early to teach childrenthe benefits of gardening. Teach appreciation of and respect for the Earth at the most fundamental level, giving children firsthand knowledge of the origins of healthy food. Kids can learn about plant varieties and enjoy being outside for fresh air and exercise. Additionally, horticulture gives children an insider's perspective on what arrives on the dining table each evening. Your children can more easily associate and appreciate the carrots cooked on their plate if they helped pull them from the ground. Understanding the delicious sauce on their spaghetti came from beautiful red tomatoes can go a long way toward making kids into vegetable lovers. Your little ones can appreciate all of the colors in garden and how it relates to their food at each meal.
Gardening as therapy for those with disabilities
Anyone who loves gardening understands how physical and arduous the hobby can be. Those who use a wheelchair on a daily basis understand this aspect of horticulture and tending to a garden all the more. The rigors of daily life present their own challenges. Adding gardening to the mix can prove challenging as well. As an impassioned gardener, you may already know about adaptive tools created to make your gardening adventures much simpler and satisfying. For example, should you become involved with a horticulture club, a car service or handicap accessible vehicles can make it much easier to attend group events. Additionally, gardening from raised beds can make fruits and vegetables easier to reach, as will accessible pathways made of materials like asphalt paving or brick.
Retiring to the garden
Retirement may be highly anticipated and welcome at the end of your long tenure with a company, but it can also leave you with long periods of time without something concrete to do or someplace to go. Having vast amounts of free time can be liberating for a while, but often it becomes overwhelming for retirees. If you want something meaningful and joyous to fill some of your free time, gardening is a wonderful option. Become a part-time gardener at home, with a horticulture club or at acommunity garden. If you live in a retirement community, options to work in a garden on the property may exist as well.
No matter the type of garden a horticulturalist chooses to tend, gardening is a feast for the senses for anyone who chooses to pursue the hobby. The array of colors, scents and sounds of nearby birds are enough pick up a spade, put on your gloves and get ready to dig.
Author bio: This is a guest post by Cassandra Lynne who values the tranquility and health benefits of gardening. Having family members with disabilities, she uses her trusty wheelchair lift to help them travel to local gardening events. When she's not outdoors gardening or hiking with her pup, Joy, she's blogging for Eat Breathe Blog, a health and wellness site