That old saying about watching out for getting "more than you bargained for" happened to me the other week, but in a good way. Yes, I was looking for a 1:43 model of what I think is probably the prettiest Jaguar ever made, the XJ6 (yes, I like it more than the E-Type). No, I wasn't looking for an XJ6 with a horse trailer attached, but that's what I bought anyway. Why not, when the price is so good? And besides, I had always wanted to have at least one Vanguards model somewhere, as I like the idea of having as broad a spread of model-makers as I have a broad spread of cars. And so I bought a Vanguards model, mint in box, of a Series 1 XJ6 with a horse float attached for $Au25 delivered to my door.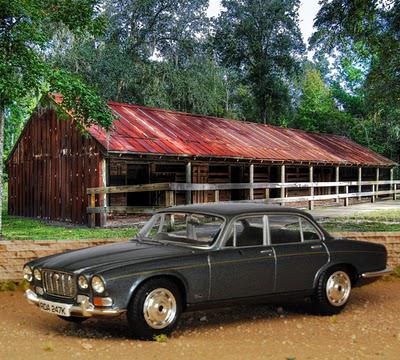 This is what I was really after, a Series 1 XJ6 Jaguar, the start of that lovely line of Jags that
looked so good from the late 60s and all throughthe 70s. Of course they still look great today, but
I did a lot of stopping and wishful staring back then, when a beautiful XJ6 Jaguar purred past me.
Unfortunately, as time went by I grew accustomed to the sight of too many XJ6s broken down somewhere, with the roadside assistance guys going their best to help get the thoroughbreds home. Such a sad thing to see beautiful cars let down this way. When in good fettle, they must have been a joy to drive. I've never been in one. This Series 1 car has the most popular engine, the 4.2 litre DOHC straight six, which developed 180hp @5500rpm and was good for about 120mph. They sold over 59,000 4.2 litre XJ6s, out of the total sales of a bit over 82,000 for the whole model run. The other engines were the 2.8 litre six and the 5.3 litre V12.
As I mentioned earlier, this Vanguards model came with a very nice horse trailer in the box, so here's a little diorama I've made to celebrate the undoubted fun of horsing around with an XJ6, for those who could afford it.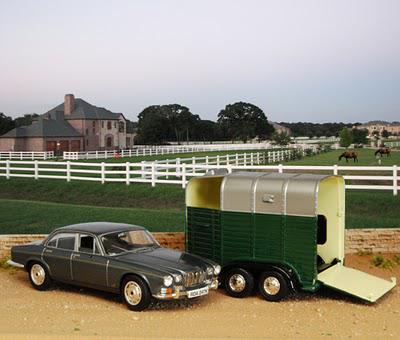 I'm just a bit extra pleased with this diorama, as I have learned a new skill in Photoshop this
morning. All this original background photo lacked was some horses in the paddock, and so
after a bit of trial and error, I managed to figure out how to copy a horse from one photo and
paste it into another one, to complete the scene. This is going to open up a dodgy new world
of tricked-up photos, but that's diecast dioramas for you. Nothing is real!