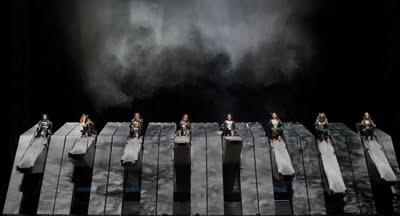 Ride My See-Saw: The Valkyries in Act III of Die Walküre at the Met. Eve Gigliotti (Siegrune) is all the way at the left. Photo by Ken Howard © 2011 The Metropolitan Opera.
Another onstage accident has been reported in connection with the Metropolitan Opera's new 
Ring 
Cycle: this time at Thursday night's performance of the Met's new production of 
Die Walküre.
In the third act, the famous
Ride of the Valkyries
features Brunnhilde's eight singing sisters mounting the planks of Robert Lepage's giant "machine" set, taking hold of "reins", and riding the see-sawing planks like bobbing horses' heads, across a digitally projected stormy sky. The singers let out their war cries in turn, as the computer-controlled planks move up and down. As the Valkyries arrive at the rock, the planks stop moving and the warrior maidens simply slide down the planks to the stage. It's simple and elegant, the best visual moment of this production.
However, according to several reports on Twitter, Eve Gigliotti, singing the role of Siegrune, fell off the machine, landing in the space between the stage apron underneath the still-moving planks. The audience gasped, and the scene continued with seven Valkyries. Ms. Gigliotti did not take her curtain call at the end of the opera. However, Deborah Voigt (@debvoigt) reported on her Twitter that the singer was OK. On her own Twitter, Ms. Gigliotti said that she was "home and resting."
We here at the blog hope that Ms. Gigliotti was not seriously hurt, and that she stages a speedy recovery.
This is the second accident in this production involving the set. On opening night, Ms. Voigt slipped on the set before her opening "Hojotohos" and had a little fall. But she recovered, stood and nailed her opening notes.
Oddly enough, this is also the second time that an accident has happened on April 28 during a performance of a
Ring
opera. The last such incident was in 1990, dring the company;s performance of
Götterdämmerung,
in the old (and beloved) production by Otto Schenk and Gunther Schneider-Siemssen.
The late, great Hildegard Behrens was on the stage, hitting her mark and singing the Immolation Scene in
Götterdämmerung.
However, when the large Gibichung Hall set above her collapsed, Ms. Behrens was hit on the head by a piece of canvas-wrapped styrofoam scenery. Ms. Behrens recovered, but had neck and shoulder injuries that affected her later career.