Eleven of the top-20 golfers in the world will be swinging their clubs from west to east coast this week, kicking off the PGA Tour "Florida Swing" and advancing the season into high gear. How, if at all, does this cross-country expedition energize players and strengthen the fan base?
The West Coast Swing begins a fun and exciting journey into a new season with fans and media reviewing wins and shots from the previous season, buzzing about how top golfers like Jordan Spieth are going to come out of the gate and with the joviality and hi-jinks that are standard fare at the AT&T Pebble Beach Pro Am.
Starting out the season playing golf in Hawaii, moving through Arizona and then back to California had the pros playing on some of the most breathtaking courses in the world, relaxed and ready after the holiday season.
"Optimistic", "hopeful", "nervous" - three sentiments communicated during an interview of Phil Mickelson at the start of the golf season on the west coast.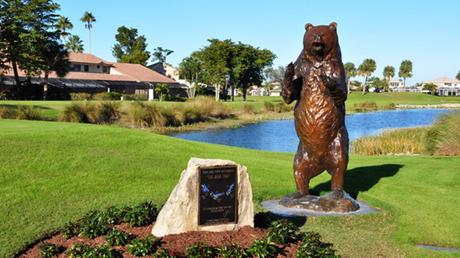 Onto the East Coast Swing this week and the "Bear Trap", the 15th, 16th and 17th holes of the Jack Nicklaus Champion course considered to be the toughest in golf...now the season is getting serious.
As Jack Nicklaus said of his lair, "That stretch is about precision,. That stretch is about guts."

After the Honda Classic this week, the next stop on the PGA Tour is equally grueling as the players visit Doral for the World Golf Championships-Cadillac Championship - visiting "The Blue Monster", a golf course in the middle of a swamp with wind and water and, perhaps, a drop-in from presidential hopeful Donald Trump and Tiger Woods? Fans should definitely be watching this tournament as prior year duels at eighteen between Woods and Mickelson at dusk took on a decidedly serious tone.
Onto Innisbrook, then Bay Hill (Arnold Palmer's gem) and finally The Shell Houston Open which all lead up to...The Masters at August National...enough said.
Basically, while the West Coast Swing kicked off the season like sipping on a breakfast blend while relaxing to a beautiful sunrise, the East Coast Swing is a completely different "animal" as mentioned by Geoff Shackelford in Golf Digest, complete with bears, a monster and snakes! It's positively terrifying and, as David Duval confirmed, "There's no faking it around any of these golf courses running up to the Masters."
West Coast or East Coast Swing - which do you prefer? Voice your opinion at the end of this golf blog and on Twitter @Golf4Beginners.
photo: Pinterest