Wow, it's June has arrived, we are almost half way through the year, where has the time gone?!  The 5th of June also brings us to Hope Grows Day.   Hani at  Sweet Bean Gardening hosts Hope Grows Day which is meme on the 5th of each month for us to show to others what we are hoping for in the following month.
I have just three hopes in my garden for June.
Some of you will remember this photo of newly germinated sweet peas shown in my February 2011 End of Month View.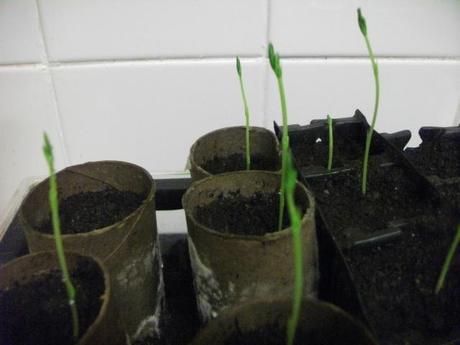 Sweet Pea seedlings Feb 2011
These sweet peas are Cupani a beautifully scented maroon and purple flower, ideal for cutting.  They look like this now.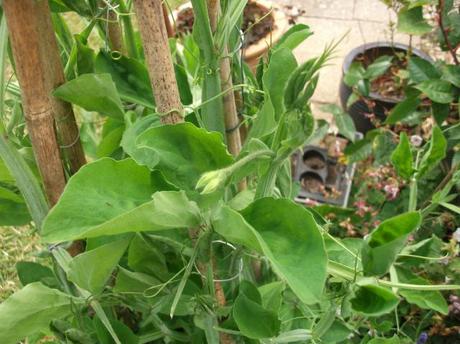 Cupani sweet pea first flowers
So my first hope is that I will have an abundance of sweet peas in June.
I am envious of those of you who are, already, eating wonderful ripe strawberries from your garden.  My second hope for June is that the meagre number of strawberries I have this year will ripen soon.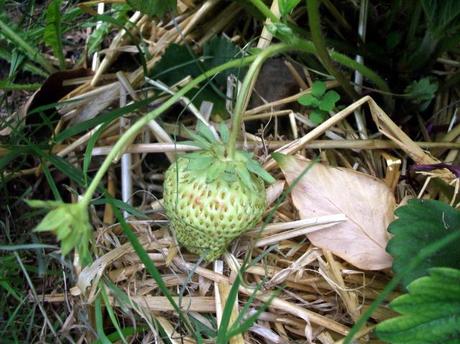 Just a hint of strawberry pink - if you look hard.
Lastly, my third hope is that the Agapanthus will flower during June.  I fell in love with this plant years ago when I first went to Guernsey.  Over there they are big chunky plants with enormous flowerheads.  The ones I have, white and blue, are much smaller but still wonderful when in full flower.  
Lily Beetle alert!  I found one on the Agapanthus the other day so I am on beetle watch at the moment.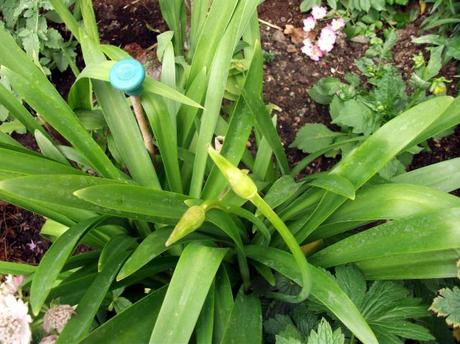 Agapanthus in bud
Thinking about, I do have a fourth hope…  the white Agapanthus, which is in a pot, I thought I had lost this winter and was delighted when I found new leaves appearing.  There are, however, no buds to be seen. 

So….. my biggest hope for June is that it will flower.
In the meantime, I will share with you of what it looks like when in flower.