Yesterday, my half marathon training calender, called for 2 miles or cross training. Not sure what to do, I pulled out my jump rope. I haven't jumped rope in ages, but it seemed like a good idea. Especially since I don't have access to any cardio equipment, and any bicycles I could use are temporarily out of order. Plus, with Easter upon us, hopping around seemed somewhat appropriate.
My workout was light and pretty basic, mostly because I was short on time, but it totally did it's job and got my heart rate up!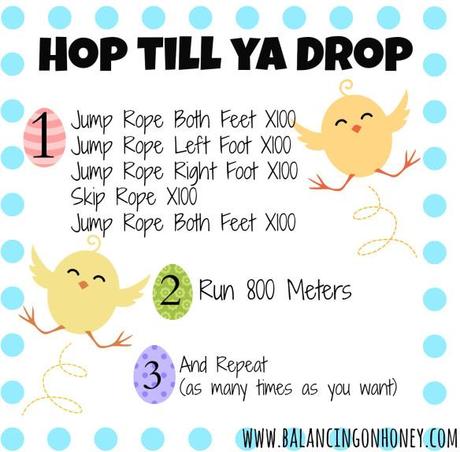 I only had time to do this twice through, but think it would be a good one to build upon for increased endurance.
Some advantages and benefits to jumping rope:
Super affordable, you can find a decent jump rope for $15… sometimes less.
You don't have to have a gym membership, you can jump pretty much anywhere
You can add jumping rope into any lifting workout between sets to increase heart rate and burn more calories
Jumping rope tones your booty and legs
Jumping rope focuses on those fast twitch muscles
Marathon Training
Today, I crossed four miles off my training calendar. I keep my calendar on my fridge to remind me what I need to focus on that day and then I get the satisfaction of crossing it off the list.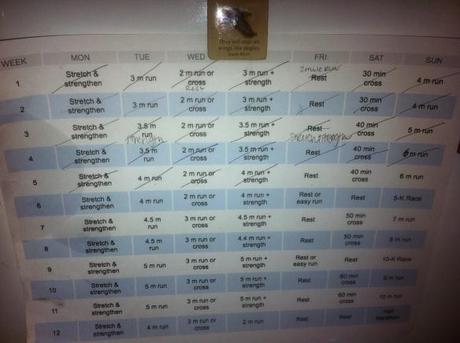 After my run I enjoyed my new favorite breakfast of all, Whole30, time and probably forever after!
Kale and Runny Eggs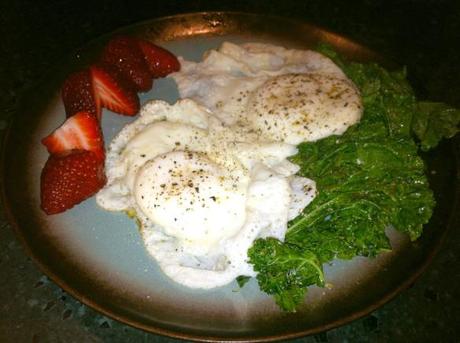 I really like spinach with my scrambled eggs, but for some reason I was inspired to try kale with some runny eggs (I don't know the correct term for eggs with a runny yoke, so runny eggs for now).
Success! I love the texture of the kale mixed into my mashed up eggs.
Ingredients
2 cups kale
2 Tbls Olive Oil
2 eggs
1/8 cup water
salt and pepper
Directions
Chop or tear Kale and toss with 1 tbls Olive Oil
Cook Kale down in skillet on medium-low heat (I usually cook until it is wilted and flexible)
Remove kale and set aside on plate
Add 1 tbls Olive oil to skillet and carefully crack eggs without breaking yoke
Add water and cover
Cook until egg white has covered the yokes (you can heat longer for a firmer yoke)
Use a spatula to top Kale with Eggs
Break yoke, mix it all together, and enjoy.
(3 more days of Whole30! I miss oatmeal and chocolate the MOST!)
Do you own a jump rope? When was the last time you added it into your workout?