And just like that, we've been married for 3+ weeks! Thank you all for the nice words and wishes. I'm waiting to get our photographer's photos (or at least nab my dad's), but once I do, I'll post a few. We went to Portugal two days after the wedding, and got back last Wednesday (although I got a migraine on the plane and the day is one big nauseous blur). We took approximately 4739 photos during the trip, and I'd love to share a few with you!
Over the course of two weeks, our itinerary looked like this: Lisbon —> Porto —> Coimbra —> Óbidos —> Évora —> Lisbon —> Paris (40-hour layover). It was a dream! Although we traveled around a lot, we were able to spend a lot of time getting to know two big cities (Lisbon and Porto), and even pick up a little Portuguese! It's an interesting language in that although it sounds like it could be very similar to French or Spanish (Brien and I both speak French, and Brien speaks a little Spanish), it's actually very far off from both of them. We always felt like we were on the verge of understanding, but the language was just beyond our grasp.
For the first night of our honeymoon, we decided to splurge and stay at the Hotel Avenida Palace, a grand hotel that felt very old-fashioned. We were upgraded to a suite, and gifted a bottle of champagne and cookies to kick off our stay!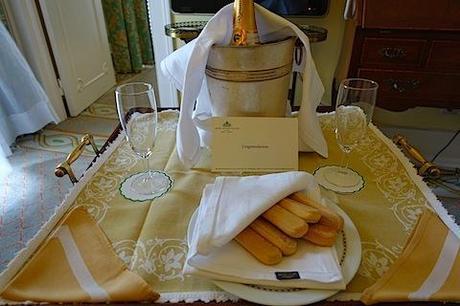 The view was stunning, too. See that castle? No big.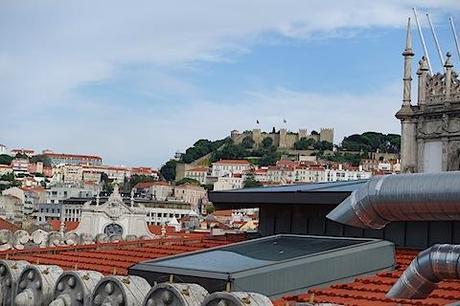 The first of many codfish dinners on our trip.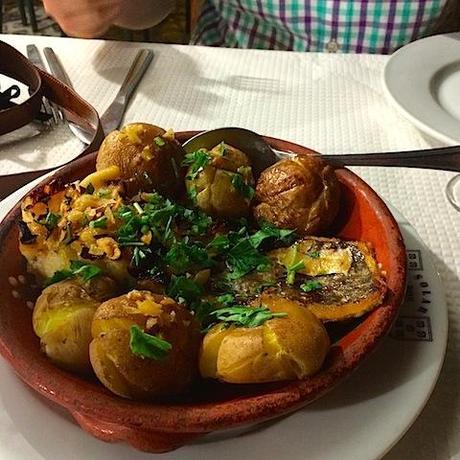 Cod, or bacalhao, is one of the national foods of Portugal, and is prepared in a ton of different ways. (I wore my glasses almost exclusively while we were away, and it was AWESOME. Vacation for my eyes!)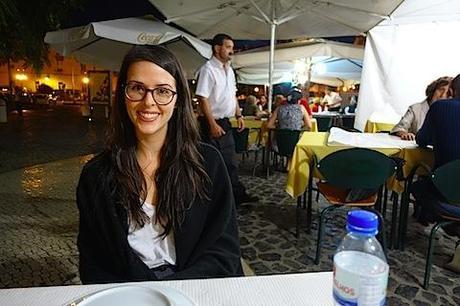 We moved to an Airbnb the next day, in the Bairro Alto area.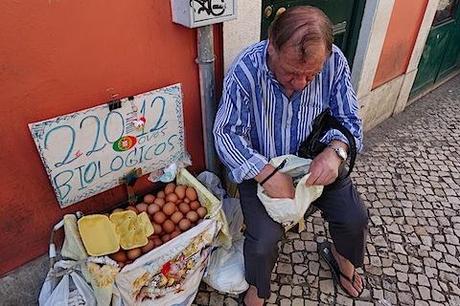 The eggs in all of Portugal were so fresh: every single egg yolk we ate was bright orange!
If you ever visit Lisbon, I highly recommend staying in this area! It's very lively, with great places to eat and drink.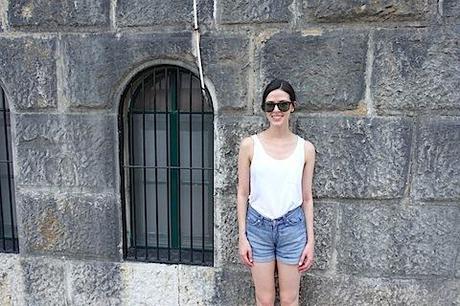 As in all of Portugal, there are beautiful tiles everywhere: on apartment buildings, train stations, restaurants, shops…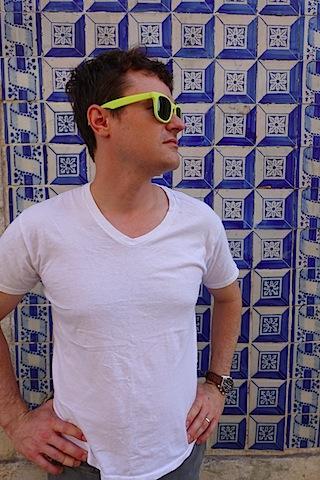 It felt, to me, like the East Village pre- 2000. There were only a couple places on my "must visit" list, and one was a cafe called Flower Power, which I heard about from this blog.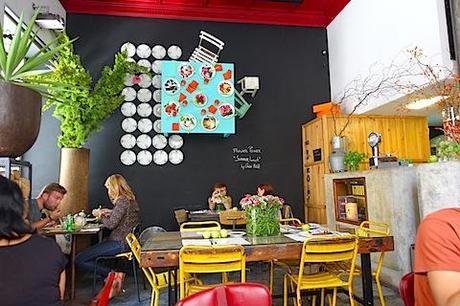 We loved it so much we ended up going back three more times. It felt like our "home base," as the space itself is really cozy and beautiful and the menu is healthy and fresh. Traveling for us is often a decadent and indulgent experience, as it should be, but we found that vegetables were hard to come by. The lunches we had at Flower Power left us feeling energized and ready to take in the city!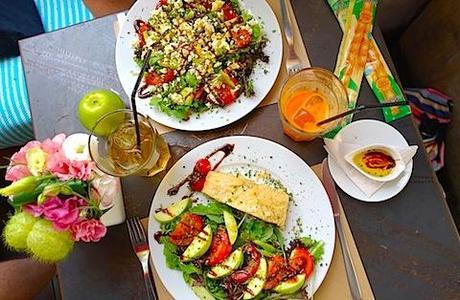 Egg custard is a feature in most of the desserts here, and each region has its speciality. In Lisbon, it's the pasteis de nata, which, when served warm, is one of the most heavenly things I've ever tasted (and tasted, and tasted).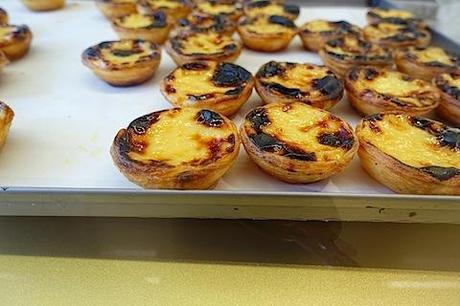 The best we had were at Manteigaria, where they make tens of thousands every day. Once you get your piping-hot pastry, you sprinkle it with cinnamon and powdered sugar. Addictive!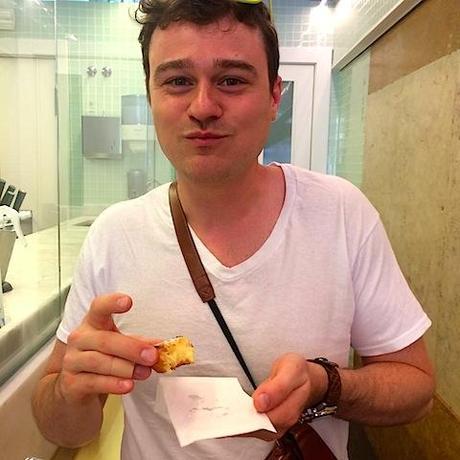 One of the (major) reasons we chose to visit Portugal was for the seafood and the wine, both of which we love. At Bota Alta, we enjoyed clams sautéed with butter, oil, lemon and cilantro (a typical seasoning in Lisbon), and an inexpensive carafe of dry red.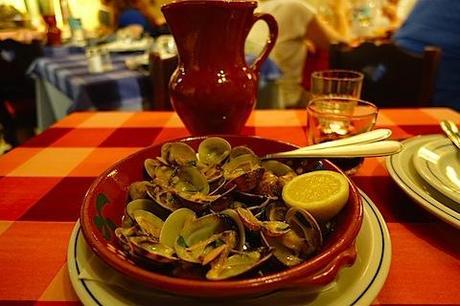 One of our favorite meals of the trip was at Aqui há peixe ("there's fish here), where we had an amazing seafood risotto, garnished with saffron mayo. If I learned anything on this trip, it is to make my own mayo and put it on seafood and risotto. SO GOOD.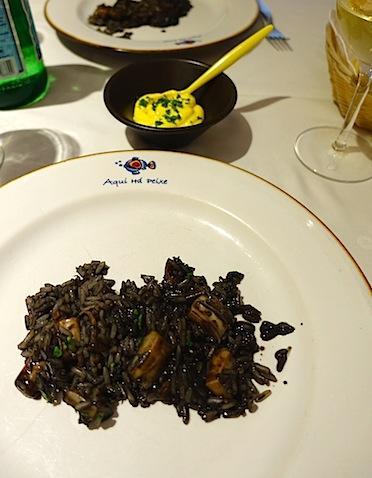 Breakfast was often pastry or cheese sandwiches (or sometimes both!). I also, for the first time in years, drank milk with my coffee (when I wasn't drinking espresso, which the culture called for). My stomach was mostly fine (at least at this point in the trip), so I went all in!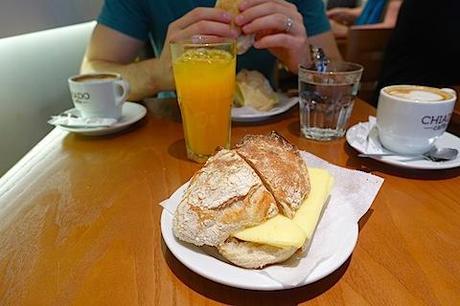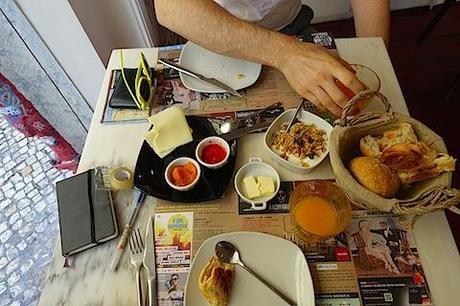 full breakfast at Créperie du Bairro (crêpe not pictured)
After three days in Lisbon, we picked up our rental car and drove North to Porto, the beautiful city where port wine originated. En route, we stopped for lunch at a little restaurant, and although we were only 30 km from Lisbon, no one spoke any English and we hadn't yet learned quite enough Portuguese to get by. Still, we ordered a delicious meal of baked cod and fish soup. The cod looked really heavy, but was so light and delicious! It was baked with potatoes and onions, and tasted like a really fluffy mac 'n cheese. I'll be making this at home!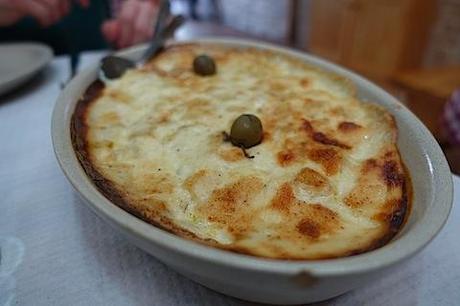 The only ordering misstep I made was instead of ordering a glass of wine, I ordered the whole bottle… for myself. At 12 PM. Whoops!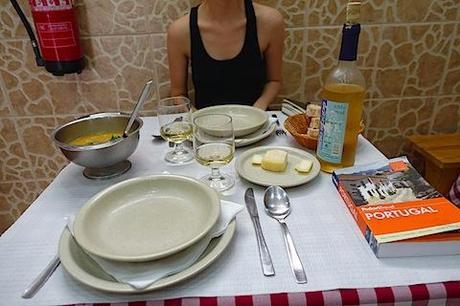 Before this post gets too long, I'll stop here. I'll be back later with tales of Porto!