It's almost Rosh Hashanah and apple picking season, so what better way to bring in the new year and celebrate with an abundance of apples from apple picking than with some biscotti. These biscotti are sweetened with honey and have traditional warm apple spices in them. Then, they are topped with some dried apples. Alternatively, you can cube fresh apples and add to the middle of the biscotti.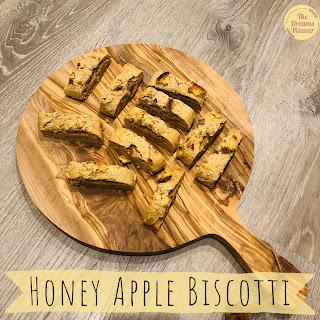 What you will need:
3 ½ cups of flour
3/4 cup honey
1 tsp. baking soda
1 tsp. cinnamon
½ tsp. nutmeg
½ tsp. cardamom
½ tsp. ginger
1/4 tsp. allspice
Pinch of salt
1 ½ tsp. vanilla extract
3/4 cup canola oil
2 eggs
1.5 oz dried apples (I use Trader Joe's freeze dried Fuji apple slices)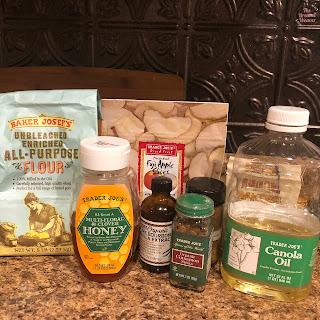 Directions
Preheat oven to 350°F. 
In a large bowl add flour, salt, baking soda, and spices.
In a medium bowl, whisk together eggs, oil, honey, and vanilla extract. 
Pour the wet mixture into the flour mixture. Give it a quick stir to incorporate all of the ingredients, the dough will be a little crumbly.
Line a baking sheet with parchment paper.  Form the dough into 2 long logs.  The logs should be relatively flat, only about ½ inch high, otherwise you will have really big slices of biscotti.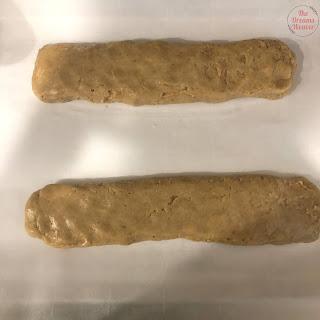 Crush your dried apple chips and sprinkle over the top. 
Bake for 20-25 minutes at 350°F, until the center is firm to the touch.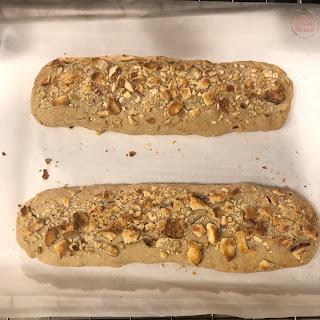 Let biscotti cool for 15 minutes.  Use a serrated knife cut the log into 1 inch wide pieces.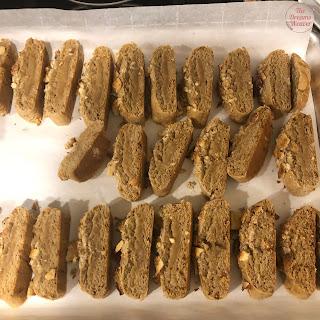 Turn the oven to 300°F and bake for an additional 15-20 minutes. Allow to cool completely.
Biscotti may be still be a little moist and chewy, so if you prefer it crisp let it sit uncovered overnight in a dry space. 
Enjoy!