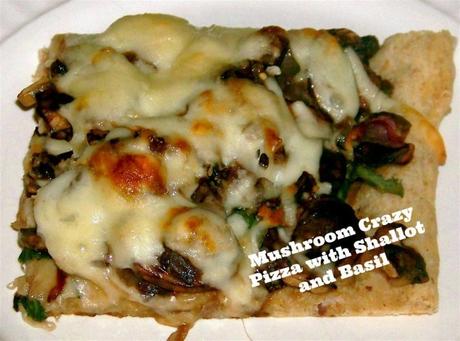 It's Happy Hour Friday, and I'm playing with my new camera. Clearly, I need to read the manual, but even so, this homemade pizza is worth the few minutes it takes to make.
I'm an Apple technician for our local school district by day, and a food blogger by night. As a techie, I usually play with new toys first - then resort to a manual when I have no other option.
My picture of this low-calorie mushroom pizza recipe convinces me that it's time to pick up the manual. I need to work on those close up pictures. Suggestions are welcome!
Anyway, I hope you enjoy this Friday's homemade pizza with sauteed mushrooms, shallots, and fresh basil atop a store bought whole wheat pizza crust. At 170 calories a piece, you can't go wrong. Now you can enjoy that second glass of wine!
Happy, Happy Hour Friday!

Save Recipe
Ingredients
Instructions
What's good for me in this dish?
Mushrooms are super high in selenium, vitamin B2, copper, Vitamin B3, tryptophan, potassium, phosphorus and zinc. Mushrooms contain powerful phytonutrients that contribute to overall health, as well as protecting against certain cancers such as breast cancer. Selenium contributes to the proper function of our antioxidant system. Zinc promotes immune function. There is a list a mile long of the benefits of mushrooms. They should be an addition to any healthy eating plan.
Amount Per Serving
Calories: 168
Total Fat: 7.27g
Cholesterol: 16mg
Sodium: 364mg
Total Carbs: 5.21g
Dietary Fiber: 1.86g
Sugars: 1.93g
Protein: 10.85g
Weight Watchers Points 4
Nutrition details obtained from whfoods.org, nutritiondata.com, about.com, and abouthomecooking.com.