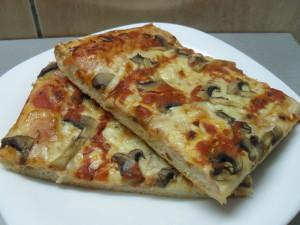 Homemade pizza has a slightly different taste than one made in a pizzeria. The taste of yeast makes it different. I have tried to bake pizza using the bakers dough from the bakery and the taste became very much similar to the real one. Nevertheless, my own, homemade pizza is very tasty and when I bake it for dinner my family is happy. This Pizza is still warm and tempting, so I really have to go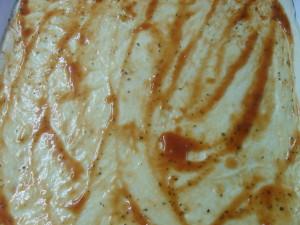 Ingredients for the dough
1 cup of warm water
3 cups of flour (as much as the dough takes in)
2 tsp of yeast
1 tsp of sugar
2 tsp of salt
2 tbsp of olive oil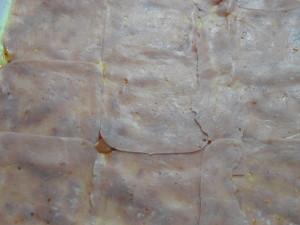 Method
Stir the yeast, sugar and a little bit of flour in the warm water. Leave it to rest and bubble for 5 minutes. Add the rest of the flour and salt, so you can start kneading. Do it for a few minutes and at the end add the oil to stop the dough from sticking to your fingers. Leave the dough to rest and to double it self. This amount of dough is enough for 2 (11×13 inch) baking pans. Role the first half of the dough out and put it in the pan.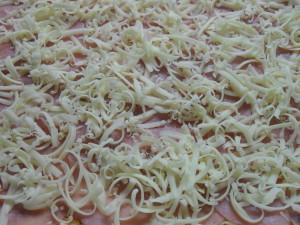 Put the tomato sauce(or ketchup) on the dough, sprinkle it with oregano and start arranging your own pizza. As you see on the pics, I used ham salami. Grated cheese is very important ingredient on pizza, no matter if you use Cheddar or Gouda or Mozzarella or even Kashkaval. Here I used Trappist cheese because of it's taste and mildness.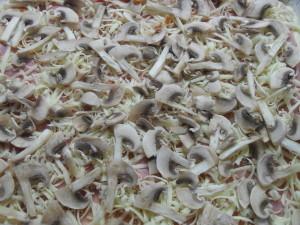 Don't forget mushrooms to enrich your homemade pizza. Champignons or button mushrooms were my choice. Thin slices of mushrooms, a cup to each pizza pan, nicely arranged all over the pizza. The mushrooms are shrinking while baking, so the amount is accurate.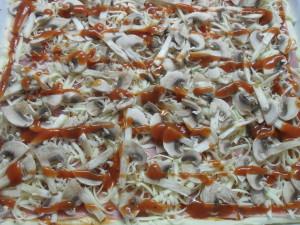 Ketchup again or not. Depends on tastes and people. My family likes it with extra ketchup so I couldn't be wrong with the amount. Sprinkle some more oregano and bake the pizza until you notice that the edges are turning brownish. Take it out of the oven and leave it for 5 minutes to cool, and than cut