Papdi is easy snack which generally used in making street food like bhelpuri, dahi bhalle or papdi chaat. You can use papdi as canapé too with stuffing of chickpeas or sprouts. For this recipe, we have to prepare stiff dough of maida. Semolina gives little crispy and crunchy taste to papdi. You can store papdi in airtight jar for further use.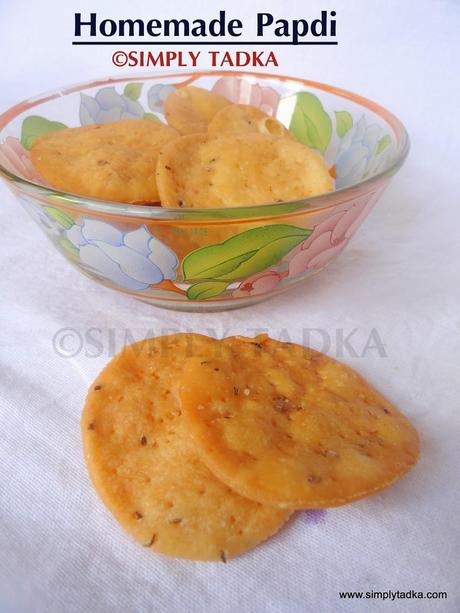 Preparation Time: 35 Minutes
Cooking Time: 20 Minutes
Servings: 20
Category: Snacks
Ingredients:
1 Cup All Purpose Flour/ Maida
1 Tbsp. Semolina
1/2 Tsp. Salt
1 Tsp. Carom Seeds
1 1/2 Tbsp. Oil
Oil for deep frying
Water for dough
Instructions: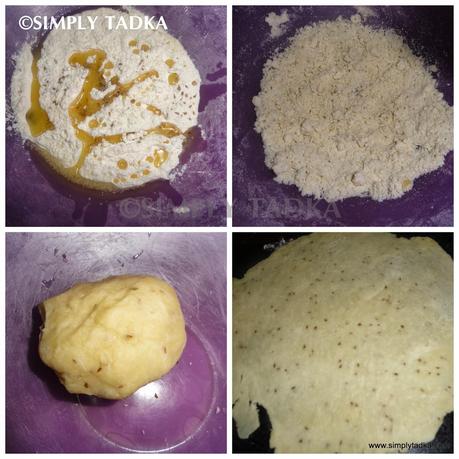 Sieve the flour and semolina together and combine in one bowl.
Add oil and mix with fingertips till to crumb form.
Add salt, carom seeds and enough water for tight dough.
Cover and keep aside the dough for 10-15 minutes.
Heat the sufficient oil in deep bottom pan on high flame.
Divide the dough into two portions and roll out each into round form.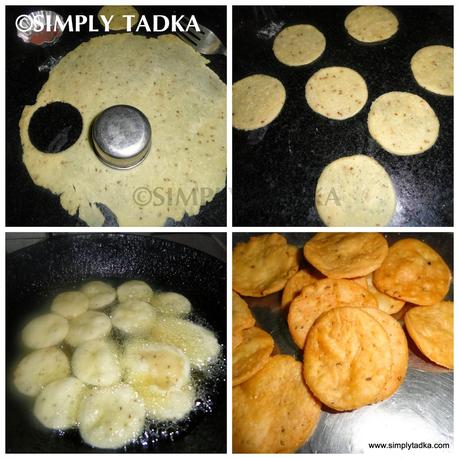 Cut them into small circle using cookie cutter or katori.
Prick the papdi with fork and fry them until to golden and crisp on low flame.
Remove and drain the excess oil and keep aside to cool.
Store them in airtight jar for further use or serve as papdi chaat or with dahi bhallas.
Notes:
Semolina is optional; it gives crunchy and crisp texture.
Enter your email address:
Delivered by
FeedBurner