With things growing away nicely at the allotment and in the garden I have started buying less vegetables. This means fewer trips to the shops, ordering a store cupboard delivery once a month and buying fresh produce such as meat, cheese and a few extra fruits and veggies.
This got me wondering what other things I could make at home. Inspired by the fact that our Kitchen used to be the  dairy I thought maybe I could make our own yogurt and hey how do you make butter?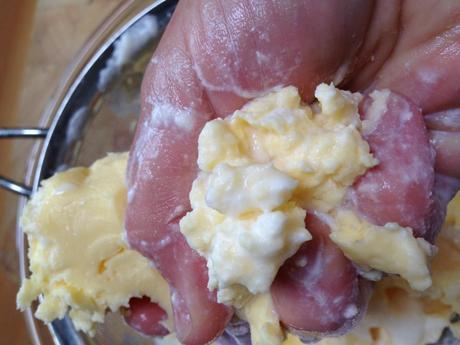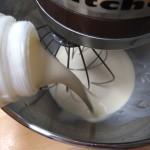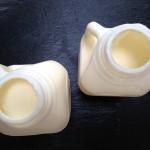 So It turns out making butter is so easy! Have you ever over whipped double cream, well if you would have carried on just a little bit longer rather than discarding it you could have had yourself some delicious butter and best of all you would have yourself some buttermilk!
Making your own butter doesn't save you money but it won't cost more than buying it and you get extra buttermilk which you can use to make a simple and quick loaf of soda bread. I can't think of anything better to do on a rainy afternoon, melt your fresh homemade butter on a slice of warm soda bread straight from the oven.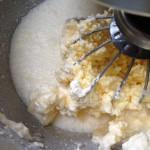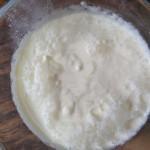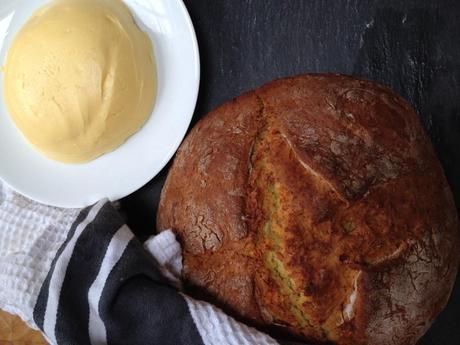 MAKING YOUR OWN BUTTER
Use 500 ml or more  of Double Cream
Whisk on a high-speed in a mixer/handheld mixer, whip the cream until it separates. This happens quite suddenly and you will hear the butter sloshing around in the buttermilk as it collects to your whisk, you better reduce the speed fast at this stage otherwise there will be Buttermilk all over your Kitchen.
Poor the content in a colander and allow the buttermilk to drain off.
Fill a large bowl with very cold water and drop in the butter particles. Using your hands squeeze excess liquid out of the butter in the cold water and shape your butter.
Add Salt if you wish, this will help preserve your Butter for a little longer.
Warp in baking parchment or mold and keep in a butter dish.
Refrigerate and use with in 3 -5 days.
***
Once I made my Butter I wanted to add a bunch of fresh fragrant herbs straight from my garden. I picked Fennel, Lemon Balm, Marjoram, Oregano, Sage and a few leaves of Nasturtium.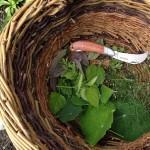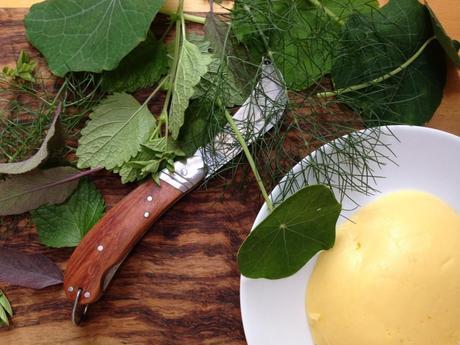 I Chopped these finely and mixed them into a portion of soften butter.  This tasted delicious on the soda bread but is equally great on meat, fish or as I discovered on broad bean and ricotta filled ravioli -post coming soon.