Recently, I posted this on the Facebook page:
"What do you make instead of buy?
Here we make our laundry soap, all-purpose cleaner, cold remedy, vapor rub, weed killer, apple butter, spaghetti sauce, salt scrub, peanut butter, almond milk, Ranch dressing, 'Corn Nuts,' and flu remedy. When Zen Son was in diapers, we made our own wipes solution, too.
If you make something cool, tell us and give us the recipe/instructions, too."
I'll be honest, I was just looking to stealing the good stuff from you all, but instead got a bunch of questions and was eventually roped into posting the recipes for what I make instead. No fair! (I better get some new recipes and ideas in these comments. Come on, give up the goods!)
Oh, and one more thing: I am SO not spending a ton of time, energy, or money on anything here. I'm no Superwoman. I have way better things to do than this beeswax (you know, like blog about this beeswax...).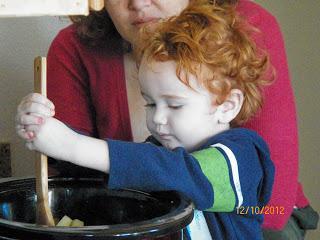 My son helps me with all of it (except for the laundry soap), we have fun doing it together, and we're learning with each other and about each other as we go. Score!
So, here we have a list of what I make at home instead of buy from the store and how I make it.

Laundry Soap
2 bars Ivory soap, grated
2 C washing soda
2 C Borax
few drops of tea tree oil
Melt soap in a pot with enough water over it to cover. Do it on a fairly low heat or it will boil over. (The bonus of this, though, is that you get a really clean stove top afterward. Don't ask how I know.) While melting, combine other ingredients in a bucket with water. Stir until dissolved. Mix in melted soap. Add more water. Mine always gets gloppy and gelatinous, but it cleans fine. Use 1/2 C for each load of laundry.
All-Purpose Cleaner
6 oranges
white vinegar
Peel oranges and put in Mason jar. Pour vinegar over and up to the top. Cover and leave it for 10 days. Pour the liquid into a spray bottle and use for anything and everything.
Cold and Sore Throat Remedy
a lemon or two
a piece of ginger
honey
Slice the lemon and the ginger. Throw them in a Mason jar. Cover it all with honey. Put it in the fridge. When you need it, put a glob in some hot water for tea and drink up.
Vapor Rub
I've blogged about this before. You can find it here along with some other tips.
- 10-15 drops eucalyptus oil
- 10-15 drops lavender oil
- 10-15 drops rosemary oil
- 1/4 C coconut oil
Mix ingredients thoroughly. Do the sniff test. If needed, add more eucalyptus. Slather liberally and cover with clothing to avoid getting in little eyeballs.
Weed Killer
white vinegar (yep, that's it - not exactly something I make)
Spray as needed. I use a big atomizer. Broad-leafed weeds carry the "poison" through the leaves, so no need to get to the root system. Make sure you do it on a sunny day, because the sun helps with the reaction. Don't bother in rainy weather. May require a few applications.
Apple Butter
1 dozen apples of different varieties; peeled, cored, and cubed
1/4 C brown sugar
1/2 t cinnamon
1/2 t allspice
Toss everything in slow cooker. Cook on low 12 hours. Prop lid open a bit and increase setting to high. Cook for another 1-2 hours. Puree to desired consistency in food processor. Store in refrigerator.
Spaghetti Sauce
2 28 oz. cans crushed tomatoes
1 6 oz. can tomato paste
1 yellow onion, chopped
1 green bell pepper, chopped
several cloves of garlic (depends on how garlicky you like things), minced
2 bay leaves
1 T dried basil
1 T brown sugar
1 T balsamic vinegar
1 T olive oil
Mix everything together in a slow cooker. Cook on low for 8 hours. Remove bay leaves. Puree in food processor until desired consistency. Store in refrigerator.
Salt Scrub
1 C sea salt
1/4 C coconut oil
1/2 t lemon juice
1/2 t lemon zest
1/2 t orange zest
Mix it all up and put it in a container that can be stored in your shower. (Hint: Don't be a dork like me and use a Mason jar. Don't ask, just take my word for it.)
Peanut Butter
3 C honey roasted peanuts
1 t safflower oil
Blend in food processor until desired consistency. Keep in refrigerator.
Almond Milk
a bunch of almonds (I don't know, like, a bag full when you get them bulk)
filtered water
vanilla (to taste)
honey (to taste - pretty specific recipe, huh?)
Soak the almonds in water overnight. Drain and rinse. In a food processor with a ratio of 1 part almonds, 2 parts water, blend until smooth. Line a large bowl with cheese cloth (Oops. Did I forget to mention that you need that? Sorry. A thin, clean dish cloth would work fine, too.) Pour almond mixture into lined bowl. Squeeze all the milk out. Squeeze some more. Squeeze the heck out of it. No, really. Squeeze. Keep making batches until you're finished with your almonds. Mix everything in a pitcher with honey and vanilla. Shake before serving. Store in refrigerator.
Ranch Dressing
1 C plain Greek yogurt
1/2 C milk
packet Ranch dressing mix
Whisk together until smooth. Store in refrigerator.
"Corn Nuts" (or, Baked Spicy Chickpeas)
2 14 oz. cans of chickpeas, rinsed and drained
1 1/2 T olive oil
1 1/2 t ground cumin
1 t cayenne
1/2 t garlic powder
1 t chili powder
Preheat oven to 425 degrees. Set the chickpeas on a towel on the counter to dry and blot the tops with another towel. You want them as dry as you can get them. In a large bowl, mix chickpeas and olive oil with your hands. Sprinkle with spices and mix thoroughly with your hands again. Spread into a single layer on a baking sheet. Bake for 20 minutes. Move them around. Bake for another 15-20 minutes. They'll come out crunchy, crispy, and just like spicy Corn Nuts when they're cool.
Flu Remedy
2 onions
bulb of garlic
2 jalapenos
piece of ginger
raw, organic apple cider vinegar with the "mother"
Chop everything up roughly. Throw it in a couple Mason jars. Cover it with vinegar. Shake daily for 6 weeks. Strain. Use the vinegar as salad dressing or just take a teaspoon of it every day as preventative care. If and when you get sick, it'll knock it out quicker than normal.
Wipes Solution
1/2 C aloe
1/2 C baby wash
1/2 C coconut oil (liquid form)
8 C filtered water
Mix and store in pitcher. Put in spray bottle and spray on wipes as needed.
I make more. Of course, I do. I'm always trying something new. Sometimes it turns out great, sometimes, uh, not so much. But I'm not afraid to fail. Nothing good ever came from just sitting back wishing you had tried, so jump in there and get crackin'!